Hot mix plant smoke chokes IA Block
Smoke-spewing hot-mix plants are being used to mix ashphalt causing breathing trouble to many residents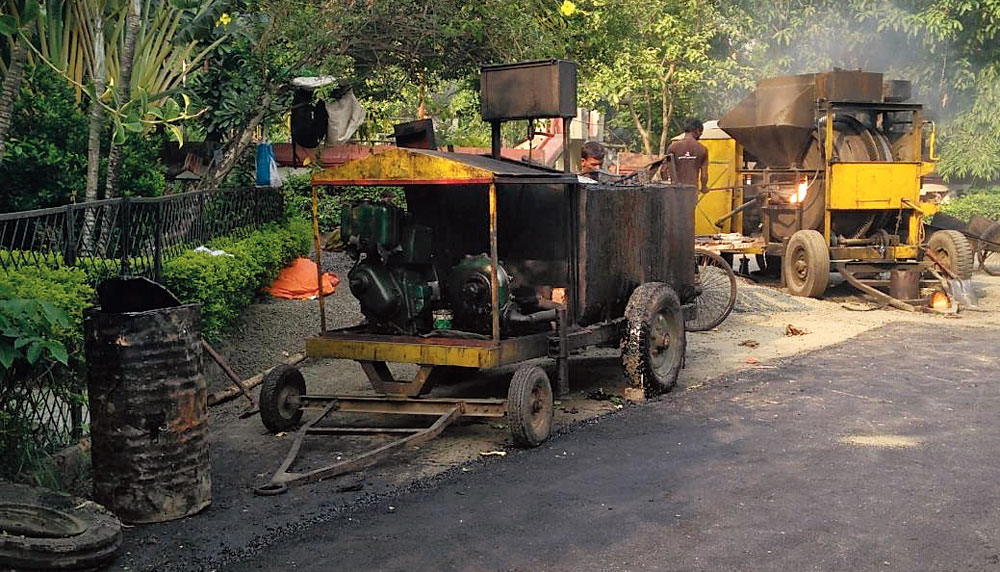 ---
|
Calcutta
|
Published 07.06.19, 01:25 PM
---
Roads inside IA Block are being repaired and smoke-spewing hot-mix plants are being used to mix ashphalt causing breathing trouble to many residents.
The Calcutta Municipal Corporation has been directed to stop using the hot mix technology for road repairs within four months by the the National Green Tribunal in December.
Sudip Sarkar, a resident of IA Block, said that the plants were set up near IA Park, right in the middle of the block.
According to him, the workers were mixing bitumen and stone chips to lay for the road repairs. "The workers were using a hot mix plant fired by wood and coal. These machines spewed out smoke for four days at a stretch," said Sarkar.
Several residents reportedly met the site supervisor and asked him to move the plant as the smoke was causing breathlessness.
"He said he was helpless as he had to heat bitumen to create the sticky mix required for repairing the roads," Sarkar said.
Another resident, Ashok Kar Majumder, said that nearly all of his family members and neighbours found it difficult to breathe due to the smoke. "It was dense black smoke and it entered every nook and cranny of our houses despite us keeping the windows shut," Majumder said.
A civic official said that although the green tribunal had directed hot mix plants to be moved out of Calcutta no such order has been passed for areas under the Bidhannagar Municipal Corporation.
"Hot mixers are required to build roads. We cannot do anything," said the official.
After facing protests from the residents, however, the work has been stopped by the contractor.