The days of sweating while attending cultural programmes at the Purbachal Community Hall might soon be over for local residents. Efforts are on to get the auditorium air-conditioned.
"Our local MP (Kakoli Ghosh Dastidar) has sanctioned Rs 7.90 lakh from her development fund. The money has reached the Bidhannagar Municipal Corporation. A tender has been floated for 14 two-tonne air-conditioning machines. We hope the air-conditioners will be in place before the next summer," said Minu Das Chakraborty, councillor of Ward 37, which includes the Purbachal housing estate.
According to the councillor, the amount will not be sufficient to cover the entire project cost. "The ceiling is almost 40-45 feet high. It is impossible to air-condition it without putting up a false ceiling first to reduce the height. Even then we will need four-five more ACs."
Minu is pinning hopes on local MLA Sujit Bose to help her out. "I have already sanctioned Rs 4 lakh. I will see what more can be done," Bose said on stage in response to Chakraborty's plea at the opening of Purbachal Utsav. Of that, Rs 2 lakh has been spent on the air-conditioning of Sebayatan, the six-days-a-week health clinic run by the Central Committee of Purbachal Housing Complex. The remaining Rs 2 lakh will be spent in buying the extra ACs.
To raise the remaining funds, the councillor has appealed to residents to contribute at an annual general meeting held on December 31. "Once the Purbachal Utsav is over, I will get an engineer to give me a quotation on the cost for a false ceiling," she added.
The air-conditioning has been a long-standing demand of residents. The auditorium came up in the early 80s and was handed over by the housing board around 1992-93 to the central committee for Rs 1 lakh. "In our time, around 2001-02, we raised the matter but could not proceed due to funds shortage," recalls Mihir Gupta, who was then the general secretary of the residents' committee.
For the last three years, the committee has been hiring air-conditioners for Rabindra Jayanti. "Despite our best efforts to curtail costs last year, the bill came to about Rs 50,000," recalls Chakraborty.
"It really gets uncomfortable when there is no AC during programmes in summer. We trust our councillor to get the project done," said Kajal Haldar, a senior advocate at the high court and a Purbachal resident since 1995.
The committee's keenness for air-conditioning of the auditorium is as much driven by commerce as by comfort. "Quite a few community halls nearby, including Cluster VIII here, has become air-conditioned. So people prefer to book those venues rather than ours in summer," the councillor admitted.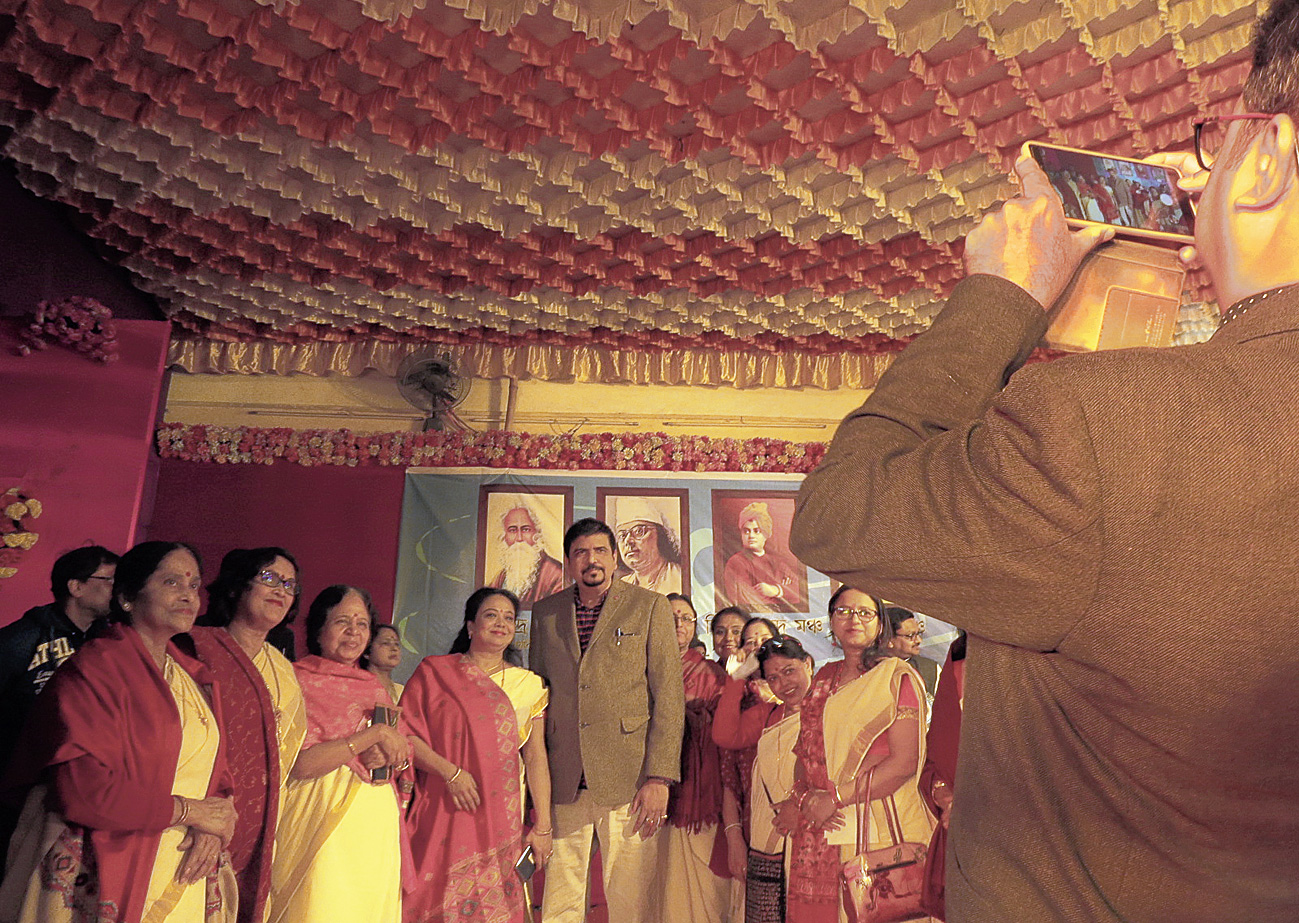 New minister Sujit Bose obliges requests for photographs on stage. Sudeshna Banerjee