Hill music stampede kills two
Instant swelling of the crowd at the entrance door to the Kalimpong musical event caused the stampede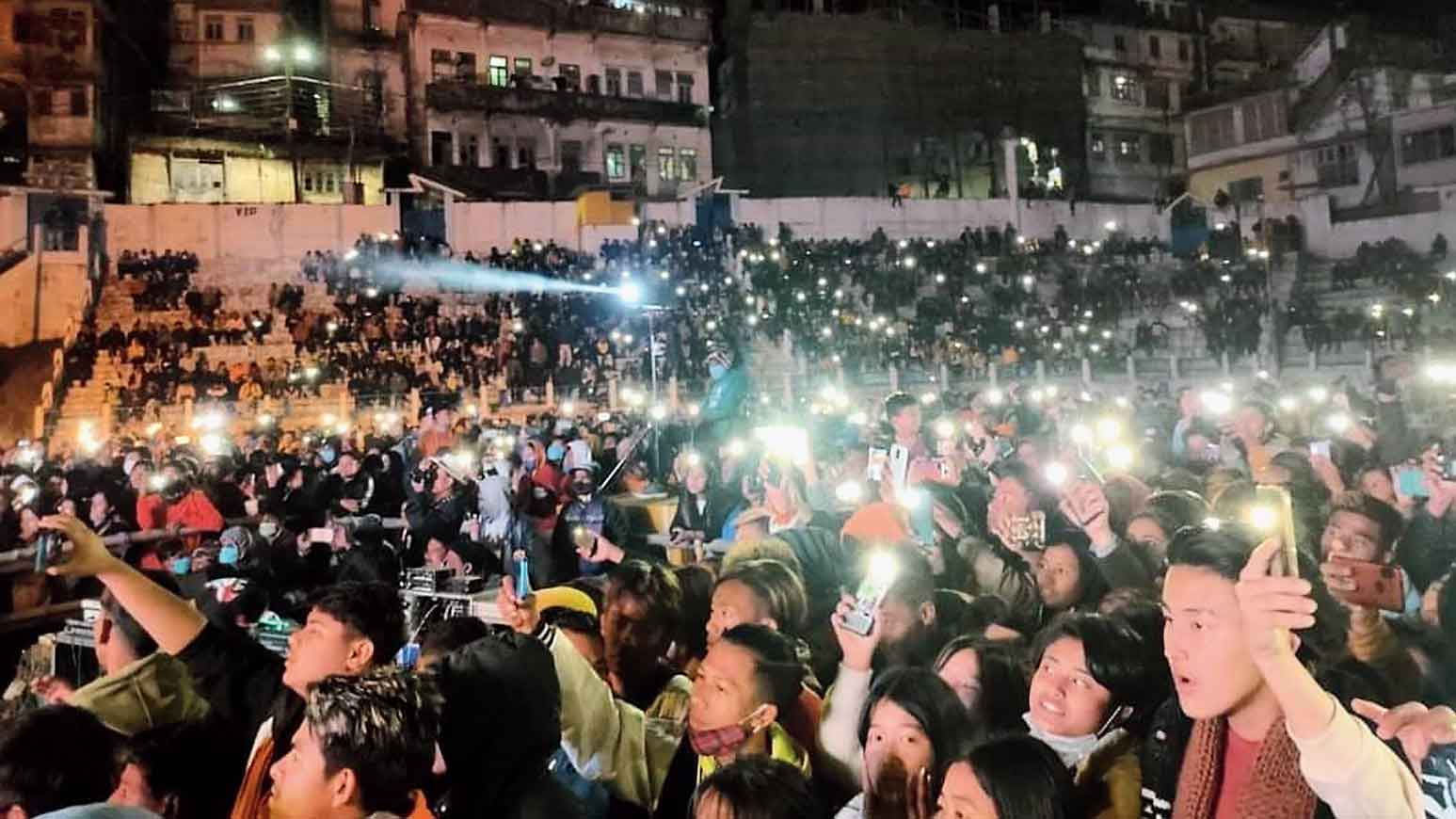 ---
---
Two women died and four were injured in a stampede when the entrance door to a musical event in Kalimpong was suddenly opened by the organisers on Sunday night.
The event organised by a group of people under the banner Mad Dog had popular rapper from Nepal, Ashish Rana aka Laure, performing at the Mela Ground, along with other artistes in the region.
"Because of instant swelling of the crowd at Gandhi gate ticket counter, a stampede occurred around 7pm on Sunday," said Hari Krishna Pai, the superintendent of police, Kalimpong.
The deceased were Anita Chhetri, 40 and Banita Gurung, 46, both from Chandraloke in Kalimpong. Both died at hospital.
The injured are Parima Rai, 18, Pratiksha Chettri, 14, Marsang Subba, 20 and Anita Subba, 31. Marsang has been referred to North Bengal Medical College and Hospital, Siliguri, while the rest are being treated at Kalimpong district hospital.
The Mela Ground has a capacity to hold around 20,000 people and even though the footfall was not as large, the flash point was the rush to enter the venue.
A descending staircase connects Kalimpong Motor Stand with the ground where the event was held.
Parima, an injured, said they had gathered in front of the Gandhi gate to enter the ground. "The police waved their batons and sent us to another entrance. However, people at the other entrance sent us back to the Gandhi gate."
It was then, according to Parima, that the organisers opened the gate and the crowd behind rushed on them.
"The crowd at the entrance was not properly managed in the sense that there were no proper queues," said Parima. The Kalimpong motor stand has a relative wide space for the crowd to have been spaced out.
Sources said few hundred people had jostled with each other and many of them had fallen on the staircase.
The injured were taken to hospital by the police, volunteers and local people.
The Kalimpong police chief said cases would be registered against the organisers and an investigation was on. No arrests have been made.
Pai said the police had tried to push the crowd away from the choke point. "In fact, pushing away from the choke point helped save many lives."
The musical soiree began around 7.30pm and it was stopped by the police after one hour. The police said around 15,00 people had come to watch the show.
None of the organisers could be contacted by this correspondent to know their version.
Darjeeling MP Raju Bista on Monday wrote to chief minister Mamata Banerjee, alleging that negligence on the part of Kalimpong administration had triggered the stampede and seeking judicial investigation into the incident.
"Since it was the West Bengal government officials who granted permission for the event, the state government must pay all the treatment and hospital bills for those injured and appropriate financial compensation must be paid to the families of those who lost their lives," wrote Bista.