Haringhata BJP MLA alleges murder attempt
Asim Sarkar registers police complaint after truck rams into his car; cops begin probe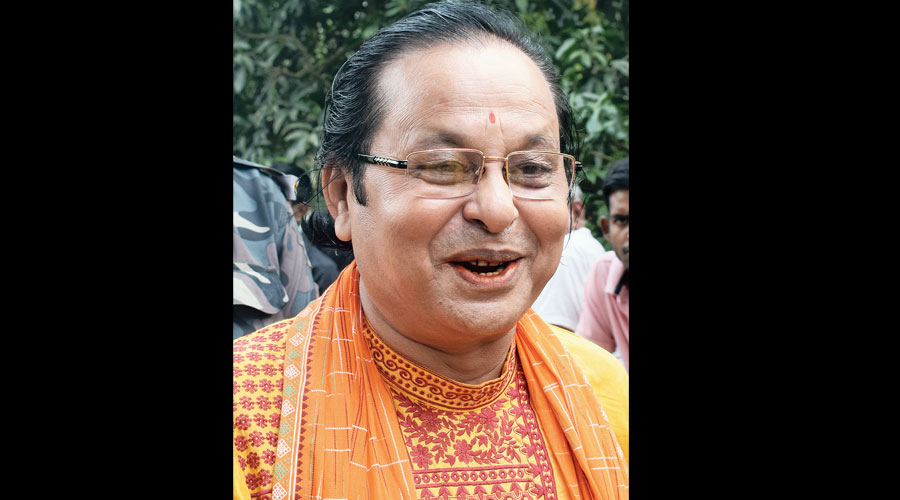 BJP MLA Asim Sarkar
File picture
---
Raiganj
|
Published 12.05.22, 01:47 AM
|
---
Asim Sarkar, the BJP MLA of Haringhata Assembly constituency in Nadia district of the state, filed a complaint with the police on Tuesday, alleging a "conspiracy to murder" him through a road accident that he had faced on Sunday night.
Sources said Sarkar has filed the complaint at Kanki police outpost of North Dinajpur district. Police are probing the case. 
On Sunday night, when Sarkar, who is also a folk singer and sings "Kabigaan" (a Bengali folk song form) was heading towards Raiganj in a vehicle with some of his associates. They had been to Islampur to perform at a musical event.
As the car reached Kanki, on the Bengal-Bihar border, it developed a snag and halted on NH12. Cops were called. The policemen decided to tow  the vehicle with their car, with the MLA and others seated in it. While they were on way, a truck rammed both the MLA and police vehicles. The accident left Sarkar and nine others, including two policemen, injured. They were taken to a hospital in Kishanganj, Bihar.
After he was discharged, Sarkar filed a complaint, alleging that "a plan was made to kill him."   
In his complaint, the MLA said while they were returning from Islampur, a truck tried to hit their vehicle but the driver somehow managed to evade the accident. Again, after the vehicle broke down, another truck rammed it.
"We hope the police will probe the case and find out the truth," said Sarkar.
Police officers of the district said they are looking into the complaint.
Trader shot dead
Zaidul Haque, 28, a corn trader, was shot dead on Wednesday afternoon. Polic sources said Haque, a resident of Malingaon under Goalpokhor police station of North Dinajpur, was returning from Dalkhola after selling corn. He, along with three others were on two motorcycles when some armed goons demanded money from them. In the ensuing altercation, one of them opened fire, killing Haque. They also snatched cash and fled from the spot.
They then snatched one lakh rupees from him and 50,000 rupees from the other trader who was in the bike with him and ran away.
The other two traders, who had stopped at a distance, managed to escape the spot.
As the news spread, locals came out for help. Haque was taken to a private nursing home in Raiganj where doctors pronounced him dead.
After the incident, police reached the spot and started investigation. They have also detained the other three traders for interrogation.