Handicraft fair starts off in New Town
For the second year in a row, Hastashilpa Mela is being held opposite Eco Park's gate 1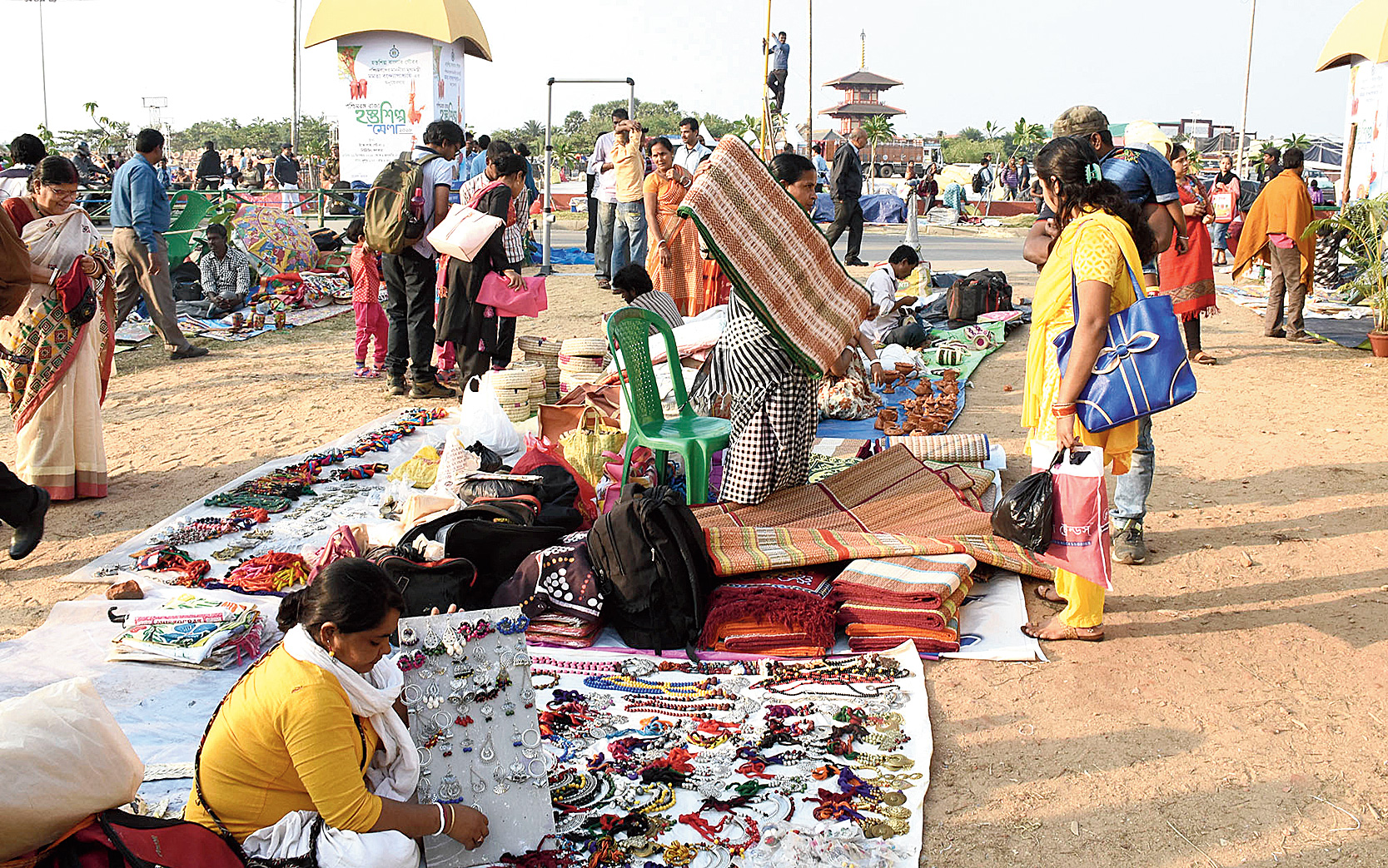 The ongoing fair opposite Eco Park.
Mayukh Sengupta
---
Published 21.12.18, 03:12 PM
|
---
For the second year in a row, Hastashilpa Mela is being held opposite Eco Park's gate 1. Ministers Amit Mitra and Swapan Debnath came down for the inauguration on Wednesday and the fair will continue till January 9.
"Last year we started the fair in November. While footfall was good we are expecting to break records this year since we have timed it to coincide with the festive season," said an official of the micro, small and medium enterprises and textile department, that is organising the fair. "Lakhs of people come to Eco Park around Christmas and New Year and we are sure to get some of that spill-over crowd. Sales should be good."
There are 6,000 stalls this time, 1,000 more than last year, and artisans have come from all districts. Stalls from Darjeeling have brought hairbands that end as earmuffs on each side, matching cap and muffler sets and even multi-functional winter wear.
Aparna Rai shows a Rs 350 woollen stole that looks like a long tube. "The stretchable fabric can be slid down one's neck to become a
poncho. It can even be worn as a muffler-cum-poncho," smiles Aparna.
Sanjoy Pal of Nadia has got what looks like a flat round cloth tiffin box, except that he can unzip their sides and convert it to a backpack. "These are ideal when travelling as they take up minimal space when empty. They cost about Rs 700," says Pal.
Vicky Sharma is selling items made of bent wires. He has Rs 20 key chains shaped like cycles and even a huge Rs 2,000 motorcycle of the same art. "I was a mechanic till I had a bike accident and got bed-ridden for four years. During that time I saw this art on Discovery channel and practised it," says Sharma of Park Circus. "Cycles are my speciality and Samajwadi Party, whose emblem is the cycle, had picked up 1,000 of my pieces once." He even makes puzzles out of the wires, where one has to untangle, say a key, from a wire Taj Mahal.
Bankura horses, patachitra on scrolls and kettles, saris, kurtis, dokra jewellery… There is also a pithe puli corner where women are grinding rice grains by stepping on the dheki. "We have different kinds of pithes and patishaptas. Many visitors long for sweets but refrain, citing diabetes. For them, we've got Shobji Pithe made of carrots and capsicum," said one of the women.