Multi-coloured wings fluttered and took off in the afternoon breeze as one after another, three jars of butterflies were released in the butterfly garden of Central Park on June 5. The urban recreation forestry division of the department of forests was celebrating World Environment Day.
"We chose to release butterflies bred in our laboratory in the park to drive home the message that not just flora, fauna is also equally important for a pristine environment. Other creatures also have the right to live. The butterflies we breed are a symbol of conservation of our biodiversity which is witnessed in all its richness at Bonobitan which is the lungs of Salt Lake and even Calcutta," said Rabindranath Saha, deputy conservator of forests.
The officials also addressed a gathering of children and their parents who were gifted saplings of Tecoma, Togor, Hyacinth, Iris and Allamanda. "Let the children water the plants and apply fertiliser. That will help them form a bond with nature. Remember, eight of the 15 cities where the world's maximum temperature has been recorded is in India. A rise of a few more degrees, and the Sunderbans would sink," said conservator of forests Ajoy Das.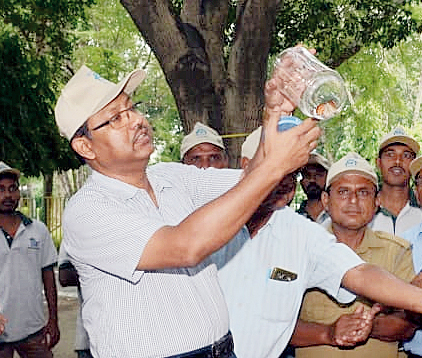 Conservator of forest Ajoy Das releases a butterfly.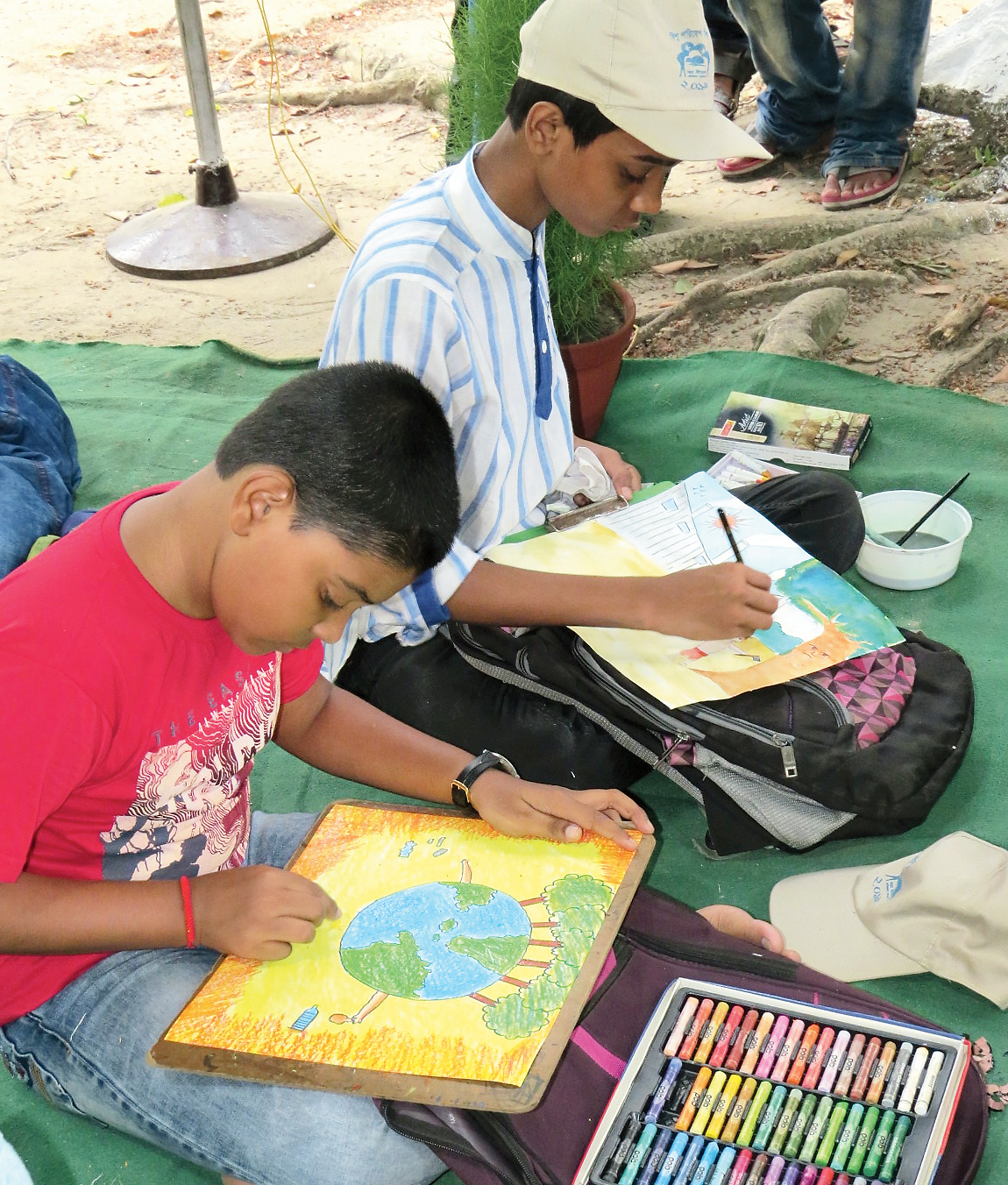 The sit-and-draw contest in progress in Bonobitan Pictures by Sudeshna Banerjee
Saha urged students to get emotionally involved with nature. "Little things make a big difference. When we shave we keep the tap running. We allow fossil fuel to burn without reason by keeping electric lights and ceiling fans on when we leave a room. We can do our bit for the environment by not doing these things or use plastic indiscriminately," Saha added.
Swati Nandi Chakraborty, an environmentalist with Bose Institute, a guest on the occasion, pointed out that the UN had declared air pollution to be the theme for 2019. She argued for segregation of waste to allow recycling and reuse. "If we continue to throw waste unsegregated it will be difficult to save the environment."
Children from Classes V to VIII put crayon to paper to draw on themes linked to the environment. Ten-year-old Mallar Basu was adjudged runner-up for his painting depicting a tree sucking up carbon di oxide. "The more trees we plant the less will there be CO2 in the air. I learnt the concept in school and thought of the theme myself," said the CL Block boy. The winner's trophy went to Srestha Roy Chowdhury of Baguiati. She drew a girl embracing a tree, protecting it from two men with axes, in a pose reminiscent of the Chipko Movement of 1974. "My father gave me the idea. I have seen trees being felled in my childhood. If it happens now I will protest," said the girl who has been taking painting classes for five years.
An open-to-all nature quiz was also held, with prizes being given on the spot for correct answers.