Green activists to move court
Noise norms were also freely violated as worshippers played loud music and drums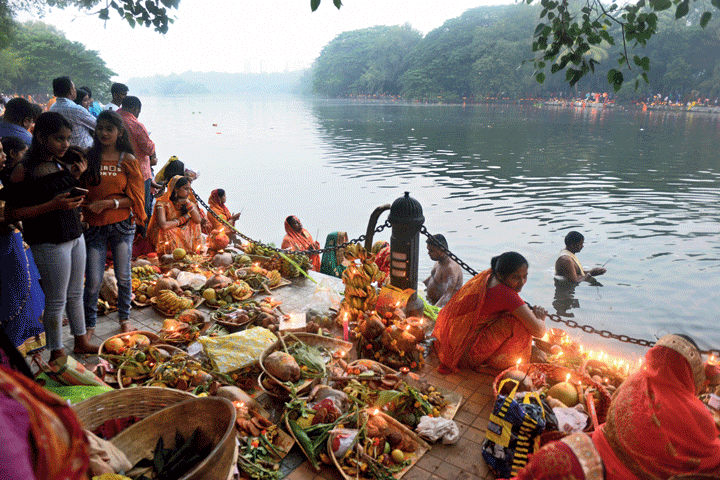 ---
|
Calcutta
|
Published 03.11.19, 09:13 PM
---
Environment activists will move court seeking action against the state administration for failing to comply with a National Green Tribunal order and prevent Chhath Puja rituals at Rabindra Sarobar.
The activists fear that the violation at the south Calcutta lake, if goes unchallenged, would encourage others to ignore orders of the tribunal as well as of various courts related to the environment.
"This (violation at Rabindra Sarobar) is shocking and very difficult to accept. It seems to be a case of intentional lapse and betrays the fact that environment issues are not high on the list of priorities of the government," said environment activist Subhas Datta, whose petition had resulted in the tribunal's November 2017 order banning Chhath Puja rituals at the lake.
Sumita Banerjee, an environment activist and a Sarobar regular, said she, too, would move the tribunal.
Datta plans to raise the issue before the national bench of the tribunal on Monday, as part of his scheduled submission in an air pollution case.
Metro saw small trees on the Sarobar premises being trampled upon by worshippers, who also poured ghee and oil into the water as part of the rituals.
The assault, environmentalists said, would lead to a drop in the oxygen content of the water, which would affect the lake's rich aquatic life.
Noise norms were also freely violated as worshippers played loud music and drums.
The environmentalists this newspaper spoke to were unanimous that the rituals, which started on Saturday morning and continued till late on Sunday, dealt a body blow to the ecosystem of the lake.
A report that was handed over to the tribunal in 2017 read: "During Chhath Puja festival, as reported, 40,000-50,000 people enter the Sarobar premises. This causes massive loss of biodiversity. Further, the rituals pollute the lake water with flowers, and also the soil is polluted… due to ghee, oil etc; cracker bursting and emission of high intensity noise also greatly disturb biodiversity."
The report was prepared by a committee led by Asish Sanyal, chairman of the state biodiversity board.
"The example set is very dangerous as judiciary often proves to be the last refuge for environment activists, when administration fails to stand up for a green cause," said Naba Datta, of green platform Sabuj Mancha, which plans to organise a civil society convention to discuss the mauling of the city's green.