Grant CBI and ED complete autonomy: Mamata Banerjee
Chief minister says BJP has allegedly been using the central agencies as tools to malign Opposition leaders and interfere in the affairs of states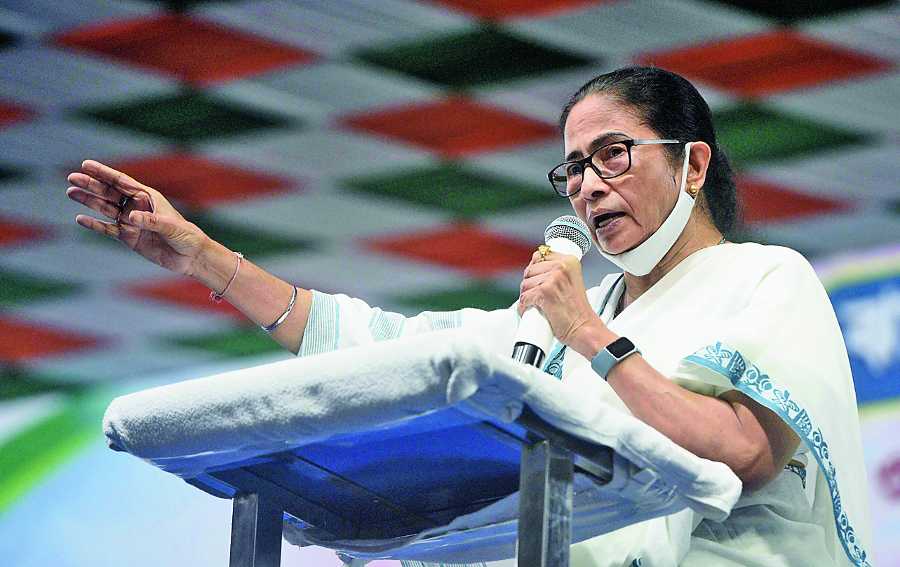 Mamata Banerjee.
File photo
---
Calcutta
|
Published 24.05.22, 02:00 AM
|
---
Mamata Banerjee on Monday demanded that central agencies like the CBI and the ED be given complete autonomy as the BJP had allegedly been using them as tools to malign Opposition leaders and interfere in the affairs of states.
The Bengal chief minister said the Centre was bulldozing the federal structure of the country and the BJP rule was worse than that of Adolf Hitler, Joseph Stalin or Benito Mussolini.
"I demand complete autonomy for all central agencies so that they can work impartially and independently. This should be the goal of modern India wherein one should not be vindictive after coming to power. There should not be any political vendetta either," Mamata said during a news conference at Nabanna.
"Let the agencies work impartially with autonomy. Let the government give their salaries only, nothing else," she added.
Mamata has demanded autonomy for the central investigation agencies at a time Bengal ministers like Partha Chatterjee and Paresh Adhikari are under the scanner of the CBI for their roles in alleged anomalies in recruitment of teachers. Several other leaders of the Trinamul Congress — like all-India general secretary Abhishek Banerjee, Birbhum district chief Anubrata Mondal and MLA Paresh Pal — are also under the scanner of agencies like the CBI and the ED.
Trinamul has maintained that the central agencies are hyperactive in Bengal as compared to BJP-ruled states as part of a conspiracy to malign the Mamata government.
During the news conference, the chief minister reiterated the same charges and accused the Centre of meddling in the affairs of the state by using the central agencies.
"I will not say that everyone in the agencies is bad. There are many good people also but they don't have autonomy. The entire autonomy is captured by two persons in the country and the BJP. I have never seen such a type of political interference.… Even such inference did not happen during the times of Hitler…. Even Stalin or Mussolini did not play such a role," she said.
Mamata accused the central government of misusing the agencies for vindictive politics and cited the recent case lodged against Rashtriya Janata Dal's Lalu Prasad Yadav and raids on his home.
"He is not well. He has just returned home. What was the need (of the raid)? It is political vendetta. How many BJP leaders were arrested?" asked the chief minister, who added that states ruled by parties opposed to the BJP were being targeted.
In an attempt to give proof to establish her narrative, Mamata referred to a recent incident of the Bihar police allegedly entering Malda and demolishing some structures.
"Some policemen came from Bihar and demolished some homes. They should have contacted (before entering Bengal). There should not be any political vendetta," said Mamata.
The chief minister said she had raised the demand (of autonomy for the central probe agencies) to save democracy in the country. "I am the first person raising this demand because it should be done in India ultimately. If you want to save democracy in India and save India from the disaster by the agencies, this is the only way out."