Graft gun on arms boss
Read more below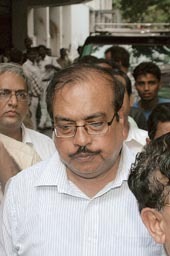 ---
Published 20.05.09, 12:00 AM
|
---
Former ordnance head Sudipta Ghosh. Picture by Sanat Kr Sinha
A retired director-general of ordnance from Calcutta has been arrested on the charge of masterminding a defence scam after raids on his four homes in the city yielded allegedly ill-gotten cash and jewellery.
The CBI had been gunning for 60-year-old Sudipta Ghosh, who retired as the chairman of the Ordnance Factory Board only last month, after investigation of deals with private manufacturers and suppliers, including foreign companies, revealed kickbacks.
Around Rs 55 lakh in cash, US $9,000 and Rs 50 lakh worth of jewellery were mopped up from Ghosh's homes in Salt Lake, Alipore, Behala and Phoolbagan. "He earned crores of rupees (in kickbacks) by favouring (certain) private parties. We are still on the trail," a CBI official said.
The CBI also arrested two of his "associates" — brother-in-law Asish Bose and Pradeep Rana — in New Delhi and a third, Kanhaiya Lal Das, in the city. None of the three is an employee of any ordnance unit.
A team led by CBI superintendent of police S.R. Majumdar arrested Ghosh.
According to the FIR filed by the CBI in a special court a few months ago, Ghosh had allegedly entered into a "criminal conspiracy" with his accomplices and favoured certain companies during his tenure as the director-general of ordnance factories and chairman of the Ordinance Factory Board.
All ordnance deals struck from 2007 till his retirement in April are under investigation.
"We have seized incriminating documents detailing how he approved quotations submitted by some companies in exchange for money," said the CBI official.
The CBI has also found details of a couple of accounts that Ghosh holds in a Singapore bank. According to sources, the cumulative cash balance in these two accounts is nearly Rs 50 lakh.
"The last transaction was on November 10, 2008. We are going through the details of his other bank accounts and 10 lockers. He also bought land in three cities in his wife's name," an official said.
Ghosh and Das were produced in the CBI court at Bankshall on Tuesday and remanded in police custody till May 27. Rana and Bose were produced in a Delhi court and brought to the city in the evening. Apart from kickbacks in arms deals, Ghosh allegedly used to "sell" plum postings and transfers.