Gorkha Janmukti Morcha calls Delhi meet to form statehood panel
The objective is to form a national committee to peacefully and democratically pursue the demand of a separate state of Gorkhaland, says Roshan Giri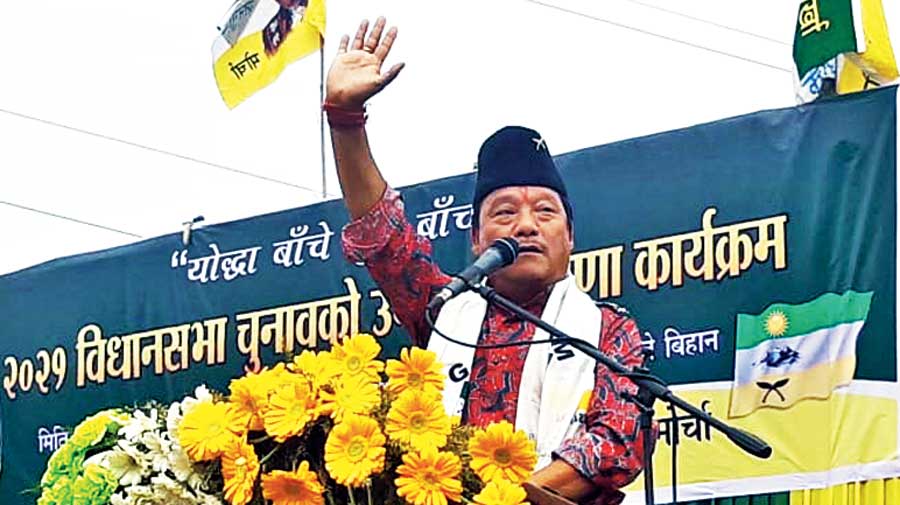 Gorkha Janmukti Morcha leader Bimal Gurung
File Picture
---
Darjeeling
|
Published 21.11.22, 05:41 AM
|
---
The Bimal Gurung-led Gorkha Janmukti Morcha has decided to organise a two-day convention in New Delhi to form a "national committee" to pursue the demand for the separate state of Gorkhaland but his past decision to put a lid on such initiatives seems to be haunting the party.
Morcha general secretary Roshan Giri on Sunday said the party would hold the convention on December 10 and 11.
"The objective is to form a national committee to peacefully and democratically pursue the demand of a separate state of Gorkhaland," said Giri.
The Morcha on Sunday invited Hamro Party (HP) president Ajoy Edwards to the Delhi session. 
Asked if other parties, including the Anit Thapaled Bharatiya Gorkha Prajatantrik Morcha (BGPM), which is currently in power at the Gorkhaland Territorial Administration (GTA), will be invited, Giri has said: "All parties will be invited."
Gurung will leave for north India on November 22 to send out invitation cards to various organisations and political parties, mainly in Delhi and Uttarakhand.
A few weeks ago, Gurung and other Morcha leaders had toured north-eastern states to drum up support for the convention.
Observers, however, believe one of Gurung's previous decisions when he was in control of hill politics would haunt him in his new initiative.
" Between 2007 and 2017, Gurung had formed all-party committees on at least three occasions," said an observer.
However, all the committees were unilaterally dissolved by Gurung when the situation became favourable for him.
"He used to form these all-party committees whenever he was caught in a tight spot and then he would dissolve them without even consulting other parties," said an observer.
When the Morcha had organised a seminar in Darjeeling on September 11, 2022, hill leaders, including Edwards and Jana Andolan Party (JAP) president Harka Bahadur Chhetri, had raised questions about Gurung's past decision to dissolve all-party committees without consultations.
Chhetri, a former Kalimpong MLA, had earlier been with Gurung's Morcha.
At the moment, Gurung is in a tight spot after having lost power in hill politics to his protégé-turned-rival Anit Thapa. Gurung's party has won any election after his return to hill politics in 2021.
Asked about the Morcha's past decisions on all-party committees, Giri declined comments.
"I do not want to comment on this issue. There is always a new beginning," said Giri.