Gorakhpur doctor arrested for child deaths narrates family ordeal
My family is shunned, pay withheld: Kafeel Khan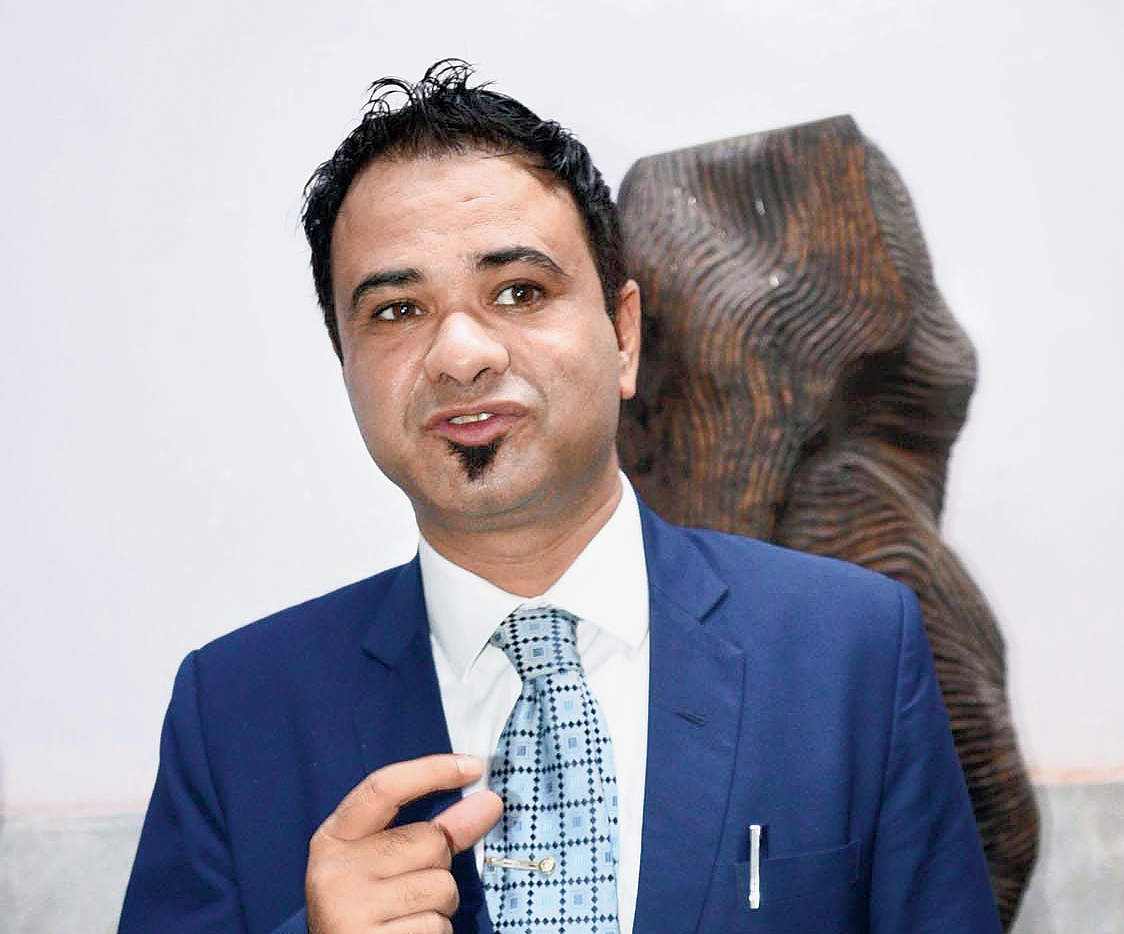 ---
|
Calcutta
|
Published 07.07.19, 09:40 PM
---
The Gorakhpur doctor who was arrested in connection with the death of multiple kids at the hospital where he worked after it ran out of bottled oxygen in August 2017 alleged on Sunday that his family had been ostracised.
Kafeel Khan, a paediatrician at Baba Raghav Das Medical College (BRDMC) in Gorakhpur, Uttar Pradesh, said he had written over 25 letters to senior officials of the Uttar Pradesh government and chief minister Yogi Adityanath but was yet to get any response. Kafeel said he wanted the government to revoke his suspension or terminate his service.
Khan was in Calcutta on the occasion of the screening of a film on his life and the tragedy at BRDMC at Jogesh Mime Academy. After the screening, he delivered a lecture on Public Health in Crisis.
"It has been nearly two years since I was suspended. I have been without any income. I have not done anything wrong. I should be able to earn for my family," Khan told Metro.
"We have a lot of land back home. We tried to sell the land at a low price but no one wanted to buy from us. Everyone is afraid to engage with us."
The UP government had held Khan and eight others responsible for the death of at least 60 infants over a span of five days. On August 10, 2017, the agency that provided oxygen to BRDMC had stopped supply because of non-payment of dues totalling Rs 68 lakh.
Khan had arranged multiple cylinders from another hospital and an agency. He was arrested early in September that year.
He spent eight months in jail before being granted bail in April 2018, a few days after a 10-page letter that he had written in the jail was released by his family.
Kafeel had written in the letter that Adityanath visited the hospital on August 13. "He asked — so you are Dr Kafeel? You arranged cylinders? I was like — yes sir. He got angry — so you think by arranging cylinders, you became hero, I will see it. Yogiji was angry because — how this incident came into the media. I swear to my Allah, I did not inform any media person that night.... Then police started coming to our home — hounding, threatening, torturing my family. People warned they would kill me in an encounter," the letter said.
The doctor told this newspaper: "I surrendered to save my family from humiliation and misery, thinking that I should get justice since I have not done anything wrong."
The family of four — Khan, his wife, the couple's three-year-old daughter and three-month-old son — depends on the income of Khan's brother. But the brother's electronic goods business has taken a hit, the doctor alleged. "No one wants to do business with him."
"In March this year, the Supreme Court had asked the UP government to finish the inquiry within 90 days. But that deadline is over. I will move a contempt petition," Khan said.
The Adityanath government, he said, wrote a letter to him after he had been suspended saying he would be given the suspension allowance, which is 50 per cent of the basic salary for the first three months and 75 per cent of the basic from the fourth.
Khan alleged the dues till date had accumulated to Rs 16 lakh. "The government has not released a single paisa. When I visit senior officials of the government, they tell me the order will come from Yogiji," he said.