Santipur: Stock of polyester yarn worth over Rs 1 crore gutted in fire
Four tenders managed to control the blaze that continued well into the early hours of Friday morning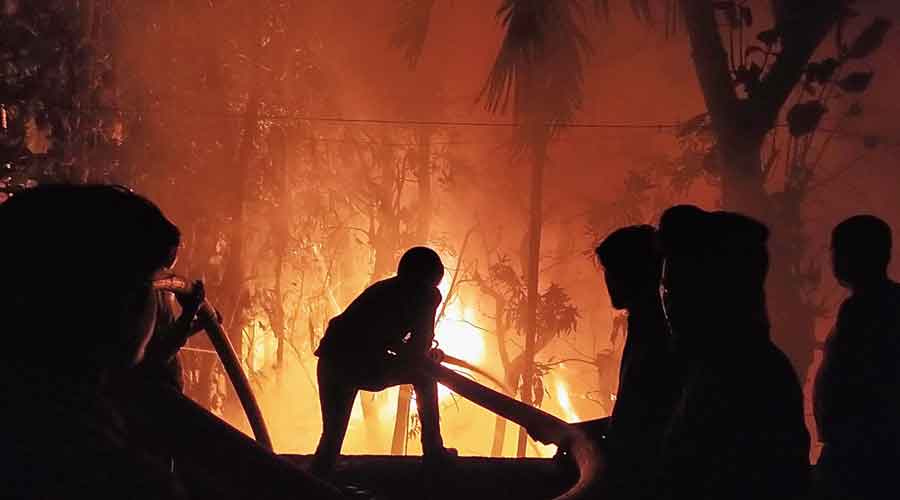 Firemen fight the blaze at a godown in Nadia district's Santipur town on Thursday night.
Telegraph photo
---
Kalyani
|
Published 06.11.21, 02:05 AM
|
---
A stock of polyester yarn worth over Rs 1 crore was gutted when the godown where it was kept caught fire in Nadia's Santipur amid Diwali celebrations on Thursday night.
Four fire tenders managed to control the blaze that continued well into the early hours of Friday morning. While there were no fatalities, four persons suffered mild burns while shifting out the cartons of stock amid the blaze.
Police and fire services personnel said on Friday that they could not conclusively ascertain the cause of the fire.
An owner of the godown however claimed that a sky lantern had caused the inferno.
Sources said the godown was owned by a private company that supplied polyester yarn to weavers across the textile-manufacturing hubs of Phulia and Santipur.
On Thursday, the godown had a stock of around 2,000 cartons.
"There was a big consignment that could not be cleared for supply owing to the prevalent Covid situation," one of the employees of the company said. Police said at 10.45pm, the godown caught fire and the flames spread fast, engulfing the entire stockpile spanning an area over 4,000sqft.
"I didn't see how the godown caught fire. But based on the information provided by local residents, it appears that a sky lantern is responsible for the inferno," said Jagadish Chanda, one of the owners.
Local residents claimed that a malfunctioning sky lantern landed on a dead tree near the godown, sparking a fire that raced to the godown through its tin roof.
"It was around 10.45pm that we noticed the flames. The impact of the fire was such that we felt its heat even from far away," a local resident said.
Sources said that initially, one fire tender from Santipur station was pressed into action.
However, its weak flow failed to contain the raging blaze, prompting the authorities to call for three more fire tenders from Ranaghat and Krishnagar.
"This was a huge fire that was moreover spreading really fast, engulfing adjacent areas. So, we had to call additional tenders or else it could have led to a major incident involving the whole area," a fire official said.
He said while the sky lantern had not yet been ruled out as a cause, they had not located any visual sources of the fire yet.
Fire officials explained that the seemingly "harmless"sky lanterns always pose a threat to flora, and have even been considered a safety hazard to aircraft in the recent past.
As a result, the sale and use of sky lanterns has been banned in several places including within a 10km radius of airports.
A senior police officer said: "We know that sky lanterns are a potential fire hazard. But we have no orders in place prohibiting their sale in this district so far."