Goal is to defeat BJP and TMC, says Yechury
The CM slogan for the 2019 parliamentary elections is 'Na Hindu, na Musalman; Majdoor, Kisan aur Naujawan'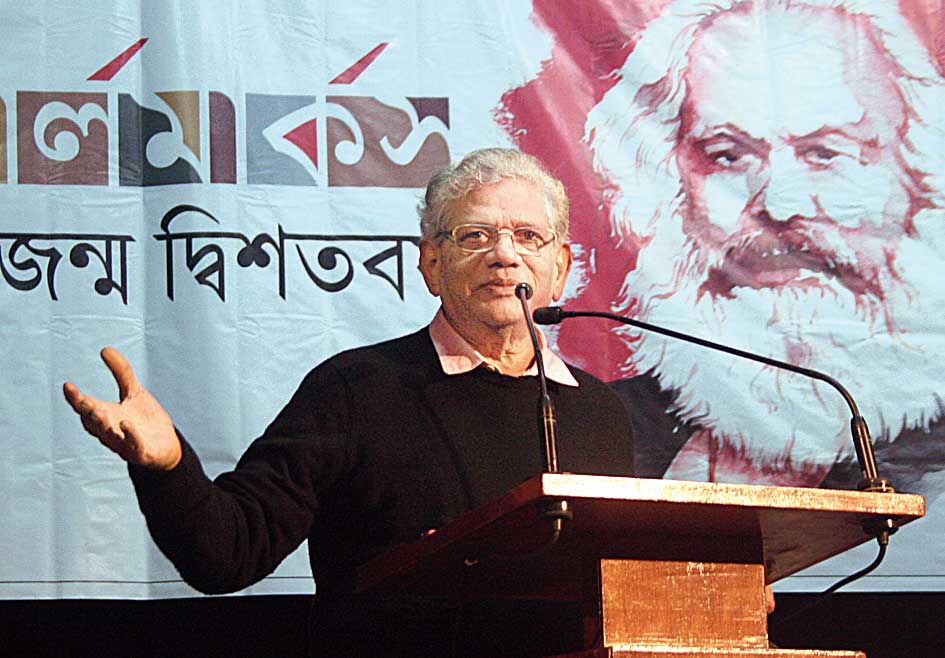 ---
Calcutta
|
Published 23.12.18, 07:33 PM
|
---
CPM general secretary Sitaram Yechury said on Sunday that his party would try and consolidate anti-BJP and anti-Trinamul votes in Bengal in the coming general elections.
"Every state has its own political scene and accordingly, for Bengal, our political tactics would be to maximise all anti-BJP and anti-Trinamul votes in the 2019 general elections," Yechury said on the sidelines of the concluding programme on the 200th birth anniversary of Karl Marx here.
Asked about state Congress president Somen Mitra's stand of contesting the Lok Sabha polls in Bengal alone, Yechury said the party had not taken a final call in this regard. "Our party's three-point call is clear — defeat the BJP and its allies, increase the strength of the CPM and other Left forces in Parliament and form an alternative secular government at the Centre in 2019," he added.
The CPM general secretary said the party's slogan for the 2019 parliamentary elections is "Na Hindu, na Musalman; Majdoor, Kisan aur Naujawan."
State CPM secretary Surjya Kanta Mishra reminded rank and file present at Sunday's programme that the 22nd party congress "had not taken an equidistant stand from the BJP and the Congress in its tactical line".
"We know the character of other right wing bourgeoisie parties that had ruled the country before and they can't be kept in the same bracket with the BJP. We are open to join hands with them to keep the BJP at bay in the Lok Sabha elections," Mishra said.
Citing the recent electoral loss of the BJP in the Hindi heartland, Yechury said: "The BJP is down now after losing three Assembly polls. We should take advantage of the current political situation and work hard to consolidate anti-BJP and anti-Trinamul votes in Bengal."