GNLF to call meet on Darjeeling candidate
All party meet including TMC, BJP and Congress to explore a possible consensus candidate for the Darjeeling Lok Sabha seat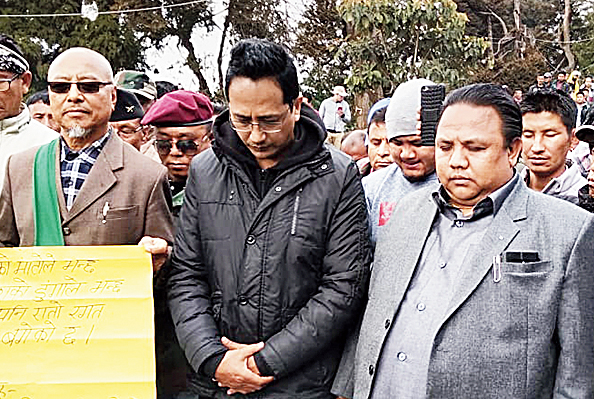 Mann Ghisingh and other GNLF leaders on Sunday pay homage to the CRPF troopers killed in Pulwama
The Telegraph picture
---
Darjeeling
|
Published 24.02.19, 09:35 PM
|
---
The Gorkha National Liberation Front (GNLF) has decided to convene a meeting of all parties, including the Gorkha Janmukti Morcha, Trinamul, BJP and the Congress, to explore a possible consensus candidate for the Darjeeling Lok Sabha seat.
"We will convene a meeting of all parties to seek a consensus candidate from the hills soon. Our stand is clear — the community is bigger than political parties and land is even bigger than community," GNLF president Mann Ghisingh said on the sidelines of a meeting to condole "martyrs". By "martyrs", the GNLF meant the CRPF troopers who perished in the Pulwama terror attack to those who had died during the Gorkhaland agitation in the hills.
Ghisingh said he would invite all parties — from "TMC, BJP, Congress, CPM, Gorkha Janmukti Morcha 1 and Gorkha Janmukti Morcha 2" — to hill outfits to the meeting. The "Morcha 1 and 2" appeared an allusion to the rival camps of the party led by Binay Tamang and Bimal Gurung.
"Our thoughts are simple but the GNLF alone cannot do it. To save the hills, we have to be united and rise above political lines. We can indulge in politics later….Our heads are low after the recent incident (agitation) and we must raise our community's head," Ghisingh said, signalling Gorkha dignity will be the main poll slogan.
"We are not happy, we are crying, this message of the hills has to be heard by the country through the Lok Sabha election," Ghisingh added.
Ghisingh's attempt to build a consensus candidate might be a tall task as bringing the BJP, TMC, CPM and the Congress on a common platform would be impossible in the present political atmosphere, observers believe. "However, by taking these initiatives, the GNLF is trying to position itself as a party championing the cause of the community," one observer said.
Ghisingh said "even the hill people are now talking about unity among political parties."
"The GNLF does not want to antagonise any national party and has invited all," said the observer.