Glimpses into the life of a pioneer
Read more below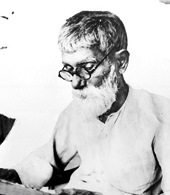 ---
---
Prafulla Chandra Ray
A winter morning in Calcutta, year 1890. A classroom of Presidency College. A bearer walks in wearing a high-collared coat. A little while later, Prafulla Chandra Ray, young and bilet-pherot (England-returned), walks in, wearing the same coat.
Charuchandra Bhattacharya, his student, later came to know that Prafulla Chandra would buy cloth for four coat lengths, two for him, two for the bearer.
Prafulla Chandra Ray had led an exceptional life: as a scientist, an entrepreneur and a teacher. But his humanity was his greatest attribute, said Soumyajit Roy, who delivered the keynote address on Ray's life, titled "Acharya Prafulla Chandra Ray, an academician, a chemist, an entrepreneur", at National Library on August 19 to celebrate the 150th birth anniversary of Ray that fell on August 2.
Roy, who teaches at the newly established Indian Institute of Science Education and Research, Calcutta, in Mohanpur in Nadia district, offered glimpses into the life of Prafulla Chandra: a pioneer Indian chemist, nationalist, the founder of Bengal Chemicals & Pharmaceuticals, India's first pharmaceutical company, and a teacher who was like a father to his students. But this is a life on which not much light has been thrown.
Prafulla Chandra's generous nature may have been genetic. His father Harish Chandra, who lived in Raruli-Katipara village in Khulna district, did not believe in the caste-system, for which he was called "mlechchha (unchaste)". Harish Chandra had opened a library in his village.
National Library held an exhibition of books written by Prafulla Chandra and on him on the occasion.
Roy's lecture brought out some startling episodes from Prafulla Chandra's life.
In 1870, Prafulla Chandra was admitted to Hare School in Calcutta. Then he studied at Metropolitan College, but for chemistry classes, he would visit Presidency College, where he met Alexander Peddler, who inspired him into taking up higher studies at Edinburgh University under the Gilchrist scholarship. He obtained a DSc from Edinburgh, though his research thesis is lost, as the university has recently made it known.
At Edinburgh, Prafulla Chandra entered an essay competition on the subject of India, before and after the 1857 mutiny. In it he was critical of the colonial rule. It did not win a prize but went on to win great appreciation from others. Liberal MP John Bright urged that it be printed and circulated.
Under the British system even a student of Ray's stature could not find the job he deserved. Two types of teaching jobs were reserved for those with training in science then: the Imperial Services and the Provincial Services.
Prafulla Chandra was offered an assistant lecturer's job at Presidency College in 1899 under the Provincial Services. Two decades later at the Nagpur Science Congress, he would talk about how Indians were excluded from science services.
In his book History of Hindu Chemistry, which took him 12 years to write, Prafulla Chandra explored why the tradition of science died in India after Bhaskaracharya, who lived in the 12th century. Prafulla Chandra blamed the process on the ramifications of the strong caste division of Manu Samhita, which engendered a dangerous division between the upper and lower classes.
Craft flourished, and a certain refinement, but since information transfer between the classes was stopped, innovation was expunged. The Indian mind was lost in speculation and mystical thinking.
Prafulla Chandra contributed immensely to chemistry with his research on nitrite and sulphur compounds. He also researched food nutrition, analysing the fat content in meat.
He started Bengal Chemicals in 1901, to use applied research for economic freedom for the country. He would ferry its products himself, taking them from shop to shop. In its second year, he took the radical step of inducting Amulya Charan Bose's widow into the board of Bengal Chemicals.
It is unfortunate that the legacy of such a man has to be ferreted out from texts, lectures or the occasional exhibition. Shyamal Chakraborty, head of the department of chemistry, Calcutta University, who chaired the event, felt the same.
Chakraborty, who had got in touch with Edinburgh University about Prafulla Chandra's DSc thesis and was told that it was lost, said it was important to remember that men like Raja Rammohun Roy, Ishwarchandra Vidyasagar and Prafulla Chandra, who had contributed to the greatest changes, social, institutional, cultural, had done so by battling with the authority, the British.
It is also ironic, he said, that there is no institution of note that has been founded in the name of Prafulla Chandra, the founder of institutions.