Glare on TMC feud in poster
Alleged Trinamul workers who owed allegiance to Santipur party MLA Arindam Bhattacharjee pasted the posters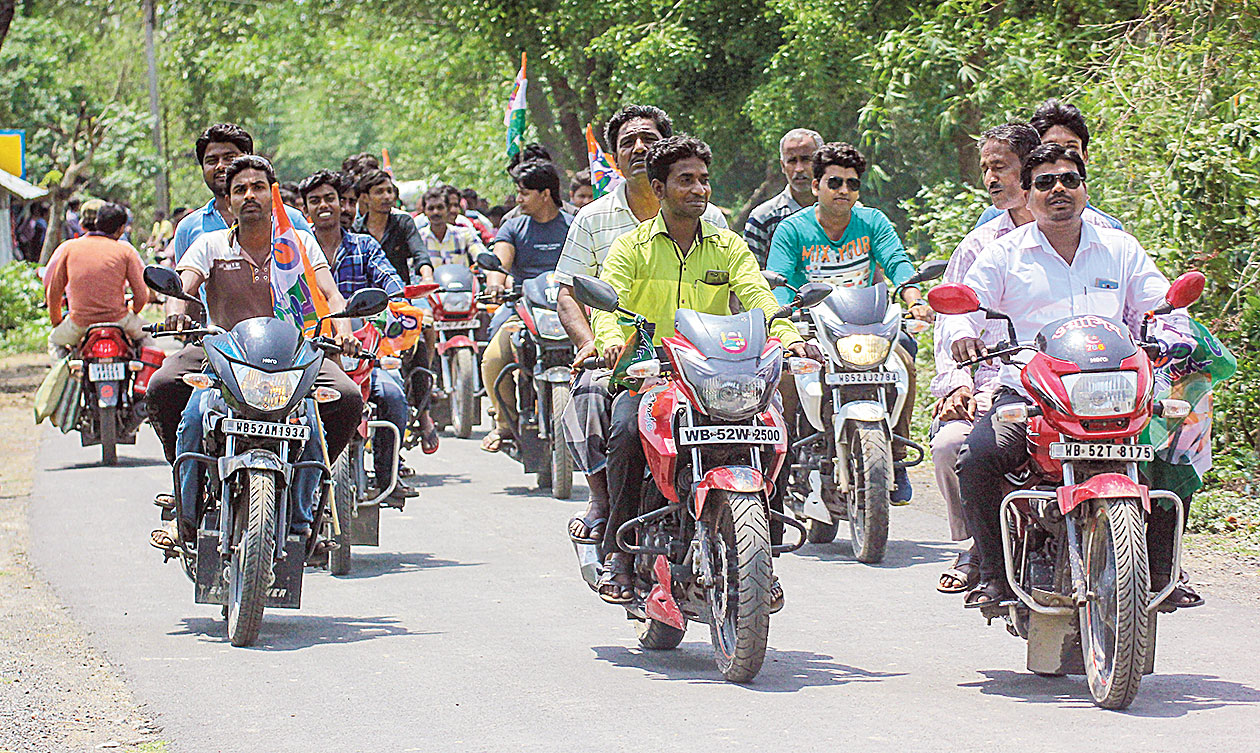 Trinamul supporters take out a motorcycle rally in Santipur. Alleged Trinamul workers who owed allegiance to Santipur party MLA Arindam Bhattacharjee pasted the posters
(Telegraph file picture)
---
Santipur
|
Published 17.07.19, 08:00 PM
|
---
Anonymous posters have been plastered in nine wards of Santipur municipality, accusing the respective Trinamul Congress councillors, including chairman Ajoy De, of taking "cut money" from beneficiaries of the Pradhan Mantri Awas Yojana.
Alleged Trinamul workers who owed allegiance to Santipur party MLA Arindam Bhattacharjee pasted the posters.
The Nadia district Trinamul president, Sankar Singh, admitted that party workers were behind the posters. "It is quite unfortunate that some leaders are seriously damaging the party's image from within. We have brought the matter to the notice of our top leadership, including the chief minister," said Singh.
Bhattacharjee had won the Santipur Assembly seat as a Congress candidate in 2016. A year later, he joined Trinamul, but the MLA and the civic chief are not on terms.
Trinamul sources said CCTV cameras had shown four party workers pasting the posters riding a white Scorpio from 2.40am on Wednesday in wards 12, 13, 14, 15, 17, 18, 21, 22, 24. De is the councillor from ward 13.
The sources also wanted to know why no police patrol was seen in the wards and the SUV not intercepted.
"We will take up the matter with the police. I have told police to identify the persons (seen on CCTV footage) and take action against them as the posters were actually aimed at creating law and order problems," said Singh.
The content and the design of the posters are identical with the only difference in the number of the ward mentioned.
"Join the programme of gheraoing the councillor's house in protest against his taking Rs 40,000 to Rs 50,000 per beneficiary in the name of allotting house under the Pradhan Mantri Awas Yojana," read the posters.
While De and Singh refused to blame any leader directly, several Trinamul workers and councillors alleged that the youths seen on the CCTV footage were aides to MLA Bhattacharjee.
De said: "The youths seen pasting the posters are well known and we all know to which party they belong. It is quite unfortunate that my party's workers are trying to humiliate me. If anybody has anything to say against me, I urge him to face me without fear."
Trinamul organised a public meeting in Santipur in the evening and issued a 48-hour deadline to the police to catch those who had put up the posters.
"Let the police prove that they were not sleeping last night," De said at the meeting.
Superintendent of Ranaghat police district V.S.R. Ananthnag said: "We have received no complaint so far."
Asked how the police overlooked the Scorpio roaming in the town for over two hours, the SP said: "I have to check the facts first."
Bhattacharjee couldn't be contacted.