Gautam Deb hops pandals to win support
The state minister has also taken the initiative to secure permission from the administration for over 130 pujas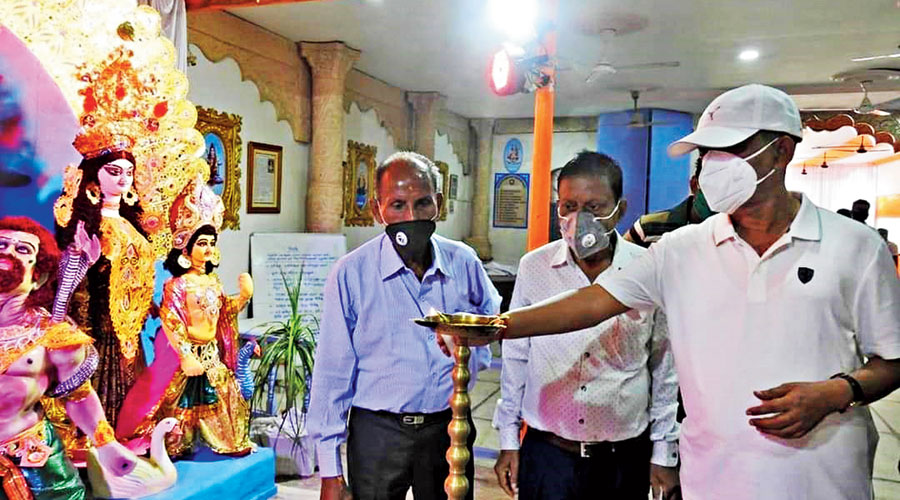 ---
Siliguri
|
Published 21.10.20, 02:28 AM
|
---
State tourism minister Gautam Deb will visit 250-odd Durga Puja pandals in Dabgram-Fulbari area — his Assembly constituency — during the festive days.
On Tuesday, Deb said he had started his pandal visits that would go on for the next few days, a move political observers deemed a strategy to reach out to his voter base before the crucial election.
"There are 248 Durga Puja pandals in my Assembly area. I have already started paying them visits and will go to each of these puja pandals," Deb, who was recently in the news for recording a Rabindrasangeet album, said.
Along with the decision to visit the pandals, the state minister has also taken the initiative to secure permission from the administration for over 130 pujas.
Once they get permission, their organisers will be eligible for the state government's assistance of Rs 50,000 each, the tourism minister said.
All these pujas, mostly small-scale ones, were being held for years now, but organisers could not obtain necessary permission till last year. Among these, around 70-odd pujas are in his constituency while the rest are in Siliguri subdivision.
"All these pujas will get the required permission this year. Then, they can also get the state assistance of Rs 50,000," Deb said.
The minister's plan — visit each Durga Puja of his Assembly area and help organisers in getting permission and state's assistance —  indicates that he intends to explore the opportunity of reviving Trinamul's support base in his seat, opined political analysts.
It may be mentioned that in 2011 and in 2016, Deb had won from Dabgram-Fulbari, a constituency that is spread over 14 wards of Siliguri Municipal Corporation and four panchayats of Rajganj block in Jalpaiguri district.
In 2016, he had won the seat with a decent margin of around 24,000 votes. However, the tables turned against his party at the 2019 Parliament elections like most other Assembly seats of north Bengal.
In the Dabgram-Fulbari Assembly segment, which is under Jalpaiguri Parliament seat, the BJP could manage to secure a lead of over 86,000 votes in last years Lok Sabha polls.
"It is evident that the minister and his party colleagues will have to toil hard to bring back support in the Assembly elections. Also, civic elections are due in Siliguri and as there are 14 (of 47) wards of SMC are under his seat. This is an additional pressure on him because if the civic polls are held ahead of Assembly polls, he has to prove he has managed to revive Trinamul's support  by ensuring the party's win in maximum number of wards," said an observer.