Foresters launch camera drone hunt for black bear; tusker kills 2
Anxiety also loomed large in the western Dooars since early Friday as a wild tusker strayed into the fringes of Gorumara National Park for fodder and killed two persons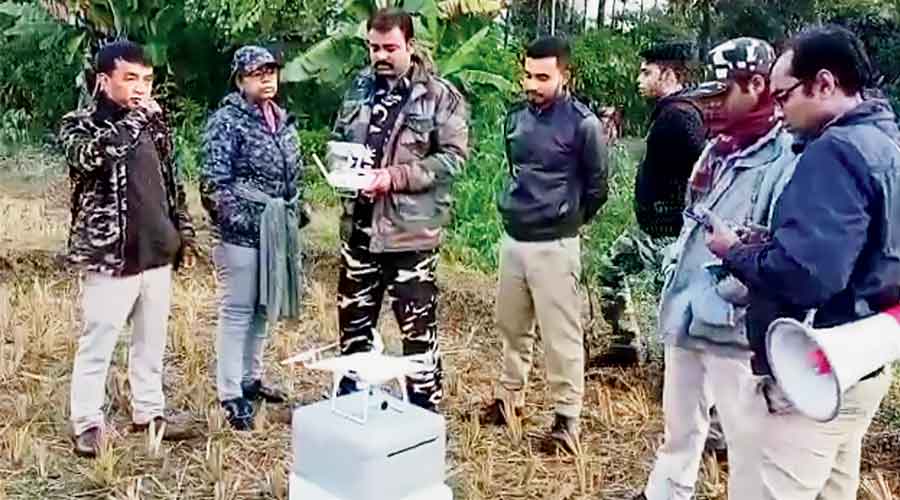 Foresters ready the drone camera on Friday to try and trace the bear sighted at the Good Hope tea estate in Malbazar, Jalpaiguri.
Biplab Basak
---
Jalpaiguri
|
Published 11.12.21, 01:41 AM
|
---
Foresters engaged a camera drone on Friday at a tea estate in Malbazar subdivision of Jalpaiguri district to trace a Himalayan black bear spotted at the garden on Thursday night, a few hours after another was rescued from a marriage hall of Malbazar town.
Anxiety also loomed large in the western Dooars since early Friday as a wild tusker strayed into the fringes of Gorumara National Park for fodder and killed two persons, damaged their houses and a private resort nearby.
A resident of Good Hope tea estate on the outskirts of Malbazar spotted the bear in the garden late on Thursday.
Her alert prompted teams from the wildlife squad in Malbazar and the local police station to reach the garden but the bear could not be found.
Dipen Subba, range officer of the wildlife squad, said that as the bear continued to elude them, on Friday they engaged a drone fitted with cameras to find the bear. "We have not located it yet. Tea workers and their families have been asked to inform us if the animal is spotted again," he said.
Another bear that had sneaked into Jalpaiguri town earlier this week is yet to be traced. Foresters laid a trap in Jubilee Park on the Teesta riverbank, but the bear has not come anywhere near. Some forest officials believe the bear has left town. 
In the Dooars, sources said the elephant first entered a private resort in North Dhupjhora on the fringes of Gorumara, and damaged it. Then it went to Lal Sukra Para to break the hutment of Bijoy Minz, 32, who was asleep. It lifted Minz with its trunk and flung him on the ground. Minz died on the spot.
The tusker then went to nearby North Ingdong Busty and entered 42-year-old Agnu Oraon's house. Oraon tried to flee but the elephant trampled him to death.
After some time, it left the place and headed to the forest.
Foresters from Khunia forest range had to confront angry villagers who confined the team for a while and refused to hand over the two bodies. Eventually, they did. Foresters told the family members of the deceased that they will receive compensation under the state's norms.
Raj Kumar Layak, the range officer, said they were monitoring the situation 24/7. "As paddy has been harvested, elephants are entering villages for fodder. We are keeping constant tabs," he said.