Festive feast
A walk through the food joints of twin township in Kolkata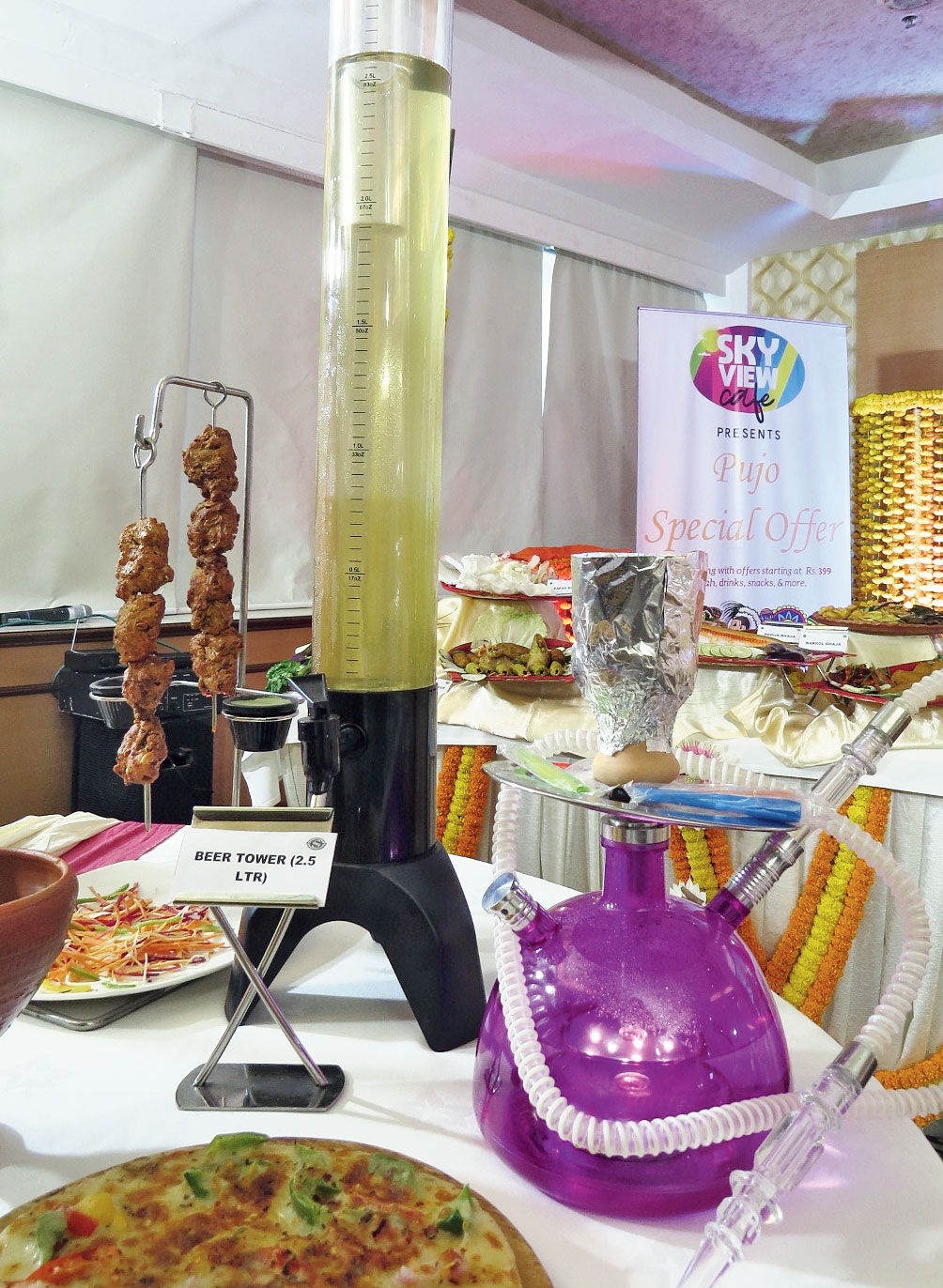 The tower of beer and LED hookah
Telegraph Picture
---
Calcutta
|
Published 27.09.19, 11:30 PM
|
---
Holiday Inn
Where: New Town
Duration: Sashthi to Dashami, time 12.30 to 3.30pm, 7 to 11pm
Pocket pinch:
Rs 1,050 for buffet
Taste case: The buffet is elaborate with dishes like Bori Diye Thor Chhechki, Dhakai Morog Pulao and Knakrar Jhal but executive chef Jayanta Banerjee singles out the Mangser Chui Jhal as the must-have. "Chui is a herb easily available in Bangladesh. The plant's stem is used as an ingredient. It is highly potent with only a tiny amount needed to cook the meat but lends a unique hot and sour taste. This brand of spiciness is different from that derived from green chillies or black pepper," he says.
Another unusual dish is Sheeley Bata Chingri. Here the peel of knachkola is boiled with salt and ground on a grinding stone along with raw shrimps. "The knachkola peel acts as a binding agent and adds a rich texture to the ingredients that are then cooked over slow fire with spices," Banerjee adds.
Restospeak: "The last two years our highlight was chocolate Durga, that we would later donate to children of NGOs. This year we aren't repeating the chocolate idol but are offering menus that are exotic," says marketing manager Reema Pramanick.
Fern Residency
Where: Near Chinar Park crossing, Rajarhat
When: Saptami to Navami (lunch, 12.30pm to 3.30pm, and dinner, 7.30pm to 11pm), Dashami (only lunch)
Pocket pinch: Rs 996
Taste case: After a tiring round of pandal-hopping, get refreshed on Saptami and Navami with Lebur sharbet and Gandharaj Doi Ghol, and on Ashtami and Dashami with Jaljeera and Aampora Shorbat. The chaat counter serves mouth-watering snacks like Samosa Chaat and Aloo Tikki Chaat. For those with health concerns, there is a vegetarian salad selection including Peyara Makha and Aloo Bedana Chaat. There are five types each of vegetarian and non-vegetarian side dishes to go with kachuri, paratha and pulao. One can end with seven types of dessert and ice cream.
Restospeak: "We are offering a combination of food and liquor at Rs 1500. A live band will also be playing on Saptami, Ashtami and Navami at lunch time," said general manager Bilash Das.
Oval Lounge
Where: DLF IT Park, New Town
Duration: Sashthi to Dashami noon to 11pm (tandoor shut 4-5pm)
Taste case: The restaurant is rolling out continental, oriental and tandoor dishes this season. So there are starters like Chicken China Town, a hot and sweet take on chicken drumsticks, and Thyme Crushed Chicken Kebab, a soft and succulent kebab with Italian flavours. A must-try is the Prawn Thermidor (Rs 629), a baked one dish-meal served with herbed rice and sauteed vegetables.
Those in the mood for Indian food can try Chicken Nilgiri Kofta (Rs 268), a chicken and egg dish cooked in mild spinach gravy. The presentation of this one is particularly striking, almost like hilsa pieces. "The Shahi Golki Mutton has a pepper and cashew nut gravy and goes best with naan," says says executive chef Anupam Chowdhury. "And my personal favourite is Mutton Burrah Kebab. This one is difficult to ace — one has to strive to get the marination and temperature right — but the taste is worth every bit of it!"
Restospeak: "Those seeing Bengali food during the Pujas will head to Bengali speciality restaurants. Our reputation is in multi-cuisine and so people expect variety from us on special occasions," says manager Sumit Kumar Dey. "Since we are located on the Major Arterial Road it is convenient for pandal hoppers from the extreme south or north to take a pit stop and dine with us."
De Sovrani
Where: DD Block
When: Panchami - multicuisine buffet dinner, Sashthi to Dashami - noon to 3.30pm, 7pm to 2am. The all-day dining section is open all night
Pocket pinch: Rs 999 for premium buffet (with 66 items), Rs 699 for midnight buffet (with 55 items), Rs 599 for economy buffet (with 45 items); Rs 550 for two at Skyview Cafe
Taste case: Separate offerings have been planned for each of the hotel's outlets. The premium Bengali buffet at Sand will have five non-veg main courses, the midnight buffet will have three plus pabda or hilsa, while the economy buffet at the second floor banquet will have three as well but not the speciality fish dish. At Skyview Café on the rooftop, two combinations are being offered. The cheapest is hookah, pizza and mocktail for a couple at Rs 399. As the rates go higher (up till Rs 999), one can add signature flavoured hookah, pasta and desserts. Ask for the LED hookahs which sparkle at the base. For friends visiting in a group of minimum six, the package cost Rs 999 to 1999. At Rs 999, one gets two hookahs, two plates of pasta and two pizzas. The 2.5l tower of beer with a tap is a quirky container to pour beverage from. It costs Rs 899 and comes with a vegetable starter and a non-veg starter. Another popular drink is LIT, priced Rs 750, which mixes five spirits and is served in a dhunuchi. Bong Tails, De Sovrani's concoctions of liquor oozing with flavours of Bengal, will be on offer as well. At Rs 200, there are choices of shots on offer -vodka flavoured with paan or fuchka, or gin and whisky with a lemon twist, to describe a few. Chilled coconut water shaken with vodka at Rs 250 remains one of the most popular drinks there. There is a range of mocktails too. Since the hotel has its own halwai section, all the sweets, Indian and Western, are made in-house.
Restospeak: "Even if you walk in at 4am, you can savour our biryani, daal tadka, butter chicken and burger," says general manager Sumit Dasgupta.
Charnock's
Where: Broadway, Salt Lake
When: Sashthi to Dashami, 12noon to 4pm, 7.30pm to midnight
Pocket pinch: Rates a la carte
Taste case: One would be spoilt for choice with the 190-item menu card that the restaurant offers round the year, spread across Continental, Bengali and north Indian cuisines. For Puja, it is adding seven fusion dishes, with prices ranging from Rs 210 to Rs 682. The cheapest is Cottage Cheese Steak with Pea Puree. The restaurant makes its own noodles, using natural ingredients as colouring agents like beetroot for red noodles, carrot for orange ones and peas for green ones. They are used to splendid effect in garnishing dishes like Mahi Tikka. Melt-in-the-mouth Galouti Kebab is served on a base of mini lachcha paratha each (priced Rs 525). The splendid view of the Salt Lake stadium and the Broadway from the ninth floor is a bonus.
Restospeak: "Our walk-in customers want to enjoy a leisurely meal and even take care to make reservations. But just before midnight we also get a rush of pandal-hoppers who have a single-minded preference for biryani! For them, we have Gosht Hyderabadi Dum Pukht Biryani at Rs 524 and Murgh Dum Pukht Biryani at Rs 419. Both are served with salad and raita, and can be shared by two people," said manager Pinakshi Chakraborty.
Bhuribhoj and All Fish
The two restaurants run by the State Fisheries Development Corporation at Nalban in Sector V will offer six Puja-special thalis, priced Rs 210 for the vegetarian option to the most expensive being the one with Sorshe Ilish, Pabda Jhal and Chingrir Kalia priced Rs 472. A Mughlai thali at Bhuribhoj will be the only one without fish. It will have Mutton Biryani, Chicken Chap and Tandoori Chicken as the notable items, at Rs 420. Fish lovers can try the Fish Biryani, at Rs 116.
For prawn lovers, there will be five prawn thalis priced Rs 210, with the main dish varying from Chingri Malaikari to Sorshe Chingri, Chingri Kalia, Daab Chingri and Tandoori Prawn. Fish items will also be sold as snacks with Fish Finger, Fish Pakoda and Golden Prawn Fry being the cheapest at Rs 21 a piece.
The seating capacity of the newly opened waterfront restaurant Bhuribhoj will also be doubled with a second wing being inaugurated on Friday.
The Sonnet
Where: DD Block
When: Sashthi to Navami, 12.30pm to 4pm, 7pm to midnight
Pocket pinch: Rs 996
Taste case: The menu common to Sashthi and Ashtami changes on Saptami and Navami. The hotel is serving a mix of popular and forgotten dishes in its buffet spread. Sample these options among the starters: Dumurer Cutlet and Thorer Cutlet, or these among the accompaniments: Dhoney Pata ar Tnetuler Chutney, Rosun ar Lonkar Chutney and Mocha Narkol Pulao.
Another high point is having street-food like Churmur and Doi Phuchka even before the starters.
Restospeak: "During Puja, Bengali cuisine is a must. And we are deliberately serving dishes that are set to be lost to memory," said Rajesh Ishai, general manager.
Curry Nation
Where: IB Block
Duration: Panchami to Ekadashi, 12.30pm to 2am
Taste case: This restaurant concedes that the best Bengali food is served in a mother's kitchen. So they are focussing on items from around the country.
Those who love spicy food can try Hari Mirchi ka Gosht (Rs 360), a Rajasthani mutton dish of green chillies, coriander and mint paste. For those willing to go a notch higher can try Andhra Style Fish Curry where the betki is fiery hot.
To tone it down, try the tomato and cream-based Himachali Ra Ra Chicken (Rs 380) or Goan Prawn Balchao (Rs 450). "This dish originally uses vinegar but we are using tamarind instead as we prefer to use natural ingredients. The gravy also has a dash of coconut milk in it," says Indrani Mukherjee, who runs the eatery.
With some guidance by Bidhannagar Horticultural Society the restaurant has started a kitchen garden in its back yard and is using home-grown herbs in their cooking.
Restospeak: The entire city may be descending on FD Block this puja but block resident, Mukherjee, will be at IB Block, supervising her restaurant. "We had started this outlet on Panchami last year so this festival is also an anniversary of sorts for us," she says.