Feel of crepe in onion chilla
French ambassador on his maiden visit to Calcutta set out to taste some of the city's street food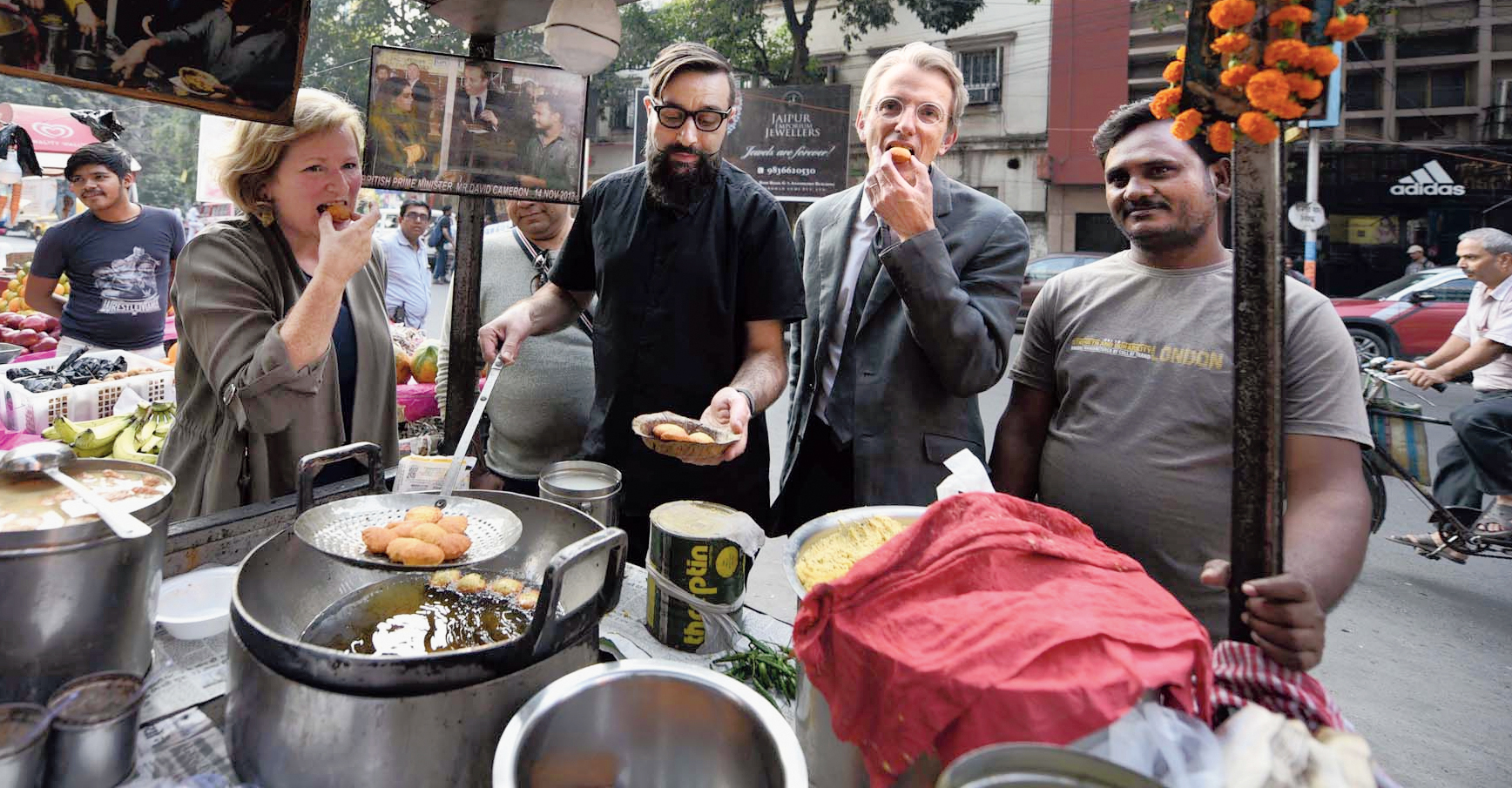 (From left) Consul general Virginie Corteval, chef Sebastien Kardinal from Paris and ambassador of France Emmanuel Lenain on Camac Street on Friday.
Picture by Gautam Bose
---
Calcutta
|
Published 29.11.19, 09:42 PM
|
---
Onion chilla tied with phuchka in the scorecard of the French ambassador who on his maiden visit to Calcutta set out to taste some of the city's street food during a stroll along Camac Street on Thursday.
Ambassador Emmanuel Lenain was accompanied by Sebastien Kardinal, a vegan chef from Paris, and consul general Virginie Corteval.
"After spending a year here, I have realised that food is very important to Calcuttans," said the consul general.
As cars zoomed down Camac Street and people hurried past them marking a busy weekday, Lenain had one question to ask as they reached the gate of Vardaan market: "Where is the food?"
Asked whether he had skipped lunch to enjoy street food, pat came the reply: "I never skip any meal. We are French. I couldn't live in a country without good food."
They had gone to the Indian Coffee House on College Street for lunch, Lenain said as he dug into Victorian vada at the first stop.
"Crunchy outside, soft inside. And the plate is very ecological," he said, tasting the snack served in a sal leaf container. "And these are wonderful Indian colours — green and saffron," he added, pointing to the chutneys.
The French team was delighted with onion chilla, served by Ramsurat Shaw. "It reminds me of crepe au sarrasin," he told Corteval. A dish of Brittany, the crepe is made of dark wheat flour. Being vegan by both profession and diet, Kardinal skipped kulfi.
The last stop was phuchka. "Here they have potatoes, unlike in Mumbai. I enjoyed the subtle difference between the two," said chef Kardinal, who is against importing recipes from other places. "I prefer the original dish."
At the end of the hour-long food walk, the ambassador left satisfied.
"I loved the crepe and the bubble with potato inside.
In our country we love food too but we do not have so much street food. But when you have such nice weather and colourful streets, it makes for a great experience. I got many ideas for breakfast," he signed off.