Farmers forced to sell vegetables at low price
The vegetables include cabbage, cauliflower, beans and eggplants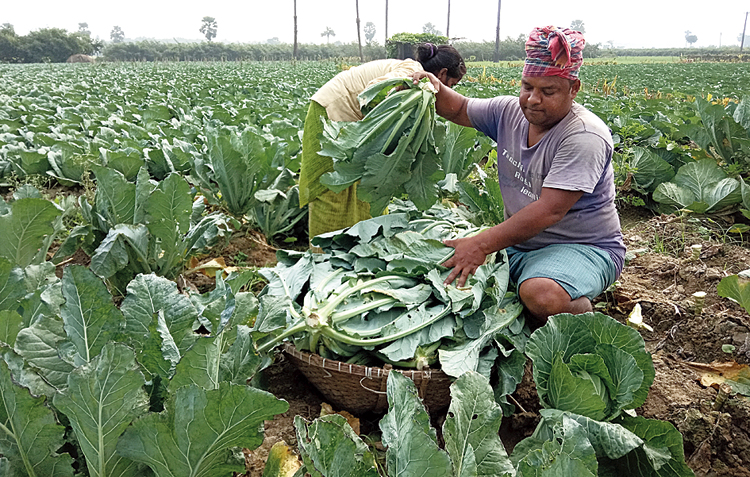 ---
Burdwan
|
Published 17.12.19, 08:30 PM
|
---
Farmers are forced to sell their produces at half the market rate as road and rail connectivity was disrupted in the violent protests against the Citizenship (Amendment) Act.
The vegetables include cabbage, cauliflower, beans and eggplants.
"I sold my produce at Rs 18 a kg on Tuesday, but today I was forced to sell the eggplants at Rs 9. The wholesalers in Berhampore market said they would not buy the vegetables as trucks stopped coming from Orissa and north Bengal and trains are cancelled," said, Hannan Sheikh, a farmer of Isherpara village in Murshidabad's Islampur.
Vegetable cultivation is a main source of livelihood in Islampur, Beldanga, Raghunathganj and Hariharpara in the district.
The picture is almost same for farmers in East Burdwan which produces cauliflowers and cabbages and transport the same to Calcutta, Odisha and Bihar.
"I sold both cabbage and cauliflowers at Rs 25 a piece till last Wednesday. But I had to sell cauliflower at Rs 10 a piece yesterday. As we could not send our produces to different places, we are being forced to sell the same in the local markets at a much lower price," said, Nripen Das who produced vegetables on a 3-acres plot in Purbasthali.
Laloo Mukherjee, the state president of the West Bengal Progressive Potato Traders Association, said: "Potatoes from Hooghly and Burdwan East are supplied to Calcutta, north Bengal and other south Bengal districts. But the supply has been disrupted."
The traders at the Siliguri Regulated Market, one of the largest markets of fruit and vegetable and fish in the city, was also facing a supply crisis as trucks could not come in the past few days.
Additional reporting by Subhasish Chaudhuri and Avijit Sinha