1,000 workers face job cuts, up in arms against state govt
The fallout would hurt most vocational teachers, lab workers in the state who have been drawing stipends from Rs 7,000 to Rs 20,000 a month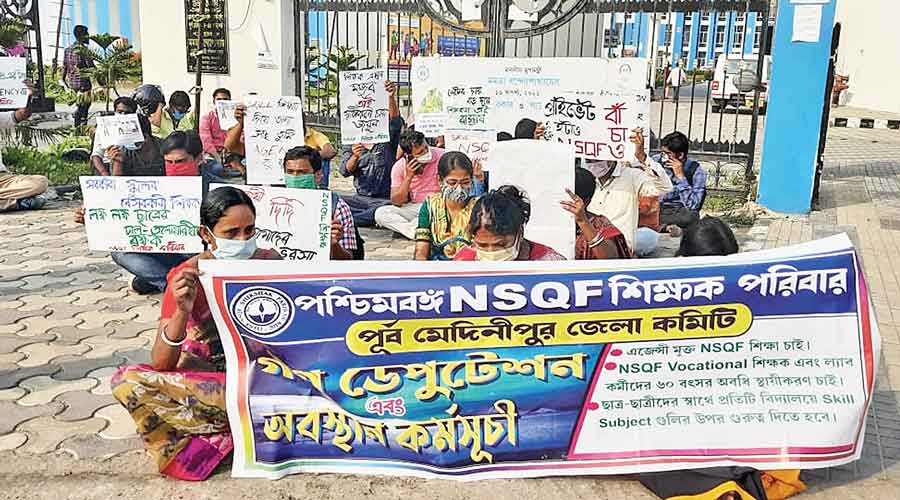 Contractual workers facing job loss protest in East Midnapore's Tamluk.
---
Published 15.11.21, 02:01 AM
|
---
The imminent phasing-out of nearly 1,000 contractual workers hired through private agencies by the state government for training at school laboratories triggered a picket outside the vocational department office in East Midnapore's Tamluk on Sunday.
According to a letter dated October 27 and addressed to the heads of charitable trusts and private academies, the state director of vocational education and training instructed the "discontinuation of additional manpower" with immediate effect.
Sources said the fallout would hurt most vocational  teachers and lab workers in the state who have been drawing  stipends ranging from 
Rs 7,000 to Rs 20,000 a month.
"We have been working in since 2013, and even during the pandemic lockdown, online. So why are we being laid off without any explanation?" asked lab assistant Subhadip Bhowmick, who was among a handful of protesters who wore blindfolds to highlight their plight, at the site.
All these workers are graduates of the National Skills Qualifications Framework (NSQF), a competency-based framework implemented in 2013 which organises qualifications according to levels of knowledge, skills and aptitude.
"These levels, graded from 1 to 10 are defined in terms of learning outcomes which the learner must possess regardless of whether they are obtained through formal, non-formal or informal learning," said a source at the state vocational department.
"The Centre had laid out this scheme of employment for us almost a decade ago. We had thought our contracts would be secure in their renewals, but this has not turned out to be the case. Now the government is laying us off like any other private concern," added another protester.
Asked, vocational department sources explained that  workforce was being trimmed by around 66 per cent to do away with redundancies. 
Bengal minister in charge of the department of technical education, Humayun Kabir, explained that these contractual employees had been appointed in schools as part of a central government scheme through private agencies on a short-term basis.
Explaining the job loss, he said: "Recently the Centre has decided to discontinue the posts of lab assistants. It  also decided to have one vocational trainer per school instead of two. This prompted the education department to withdraw excess manpower from schools. This has led to job loss. The stage government has no role in it. We are trying to see if those who have lost jobs can be adjusted elsewhere."