Durga Puja no-crowd drive picks up pace
Most district authorities have decided to create a buffer zone around major pandals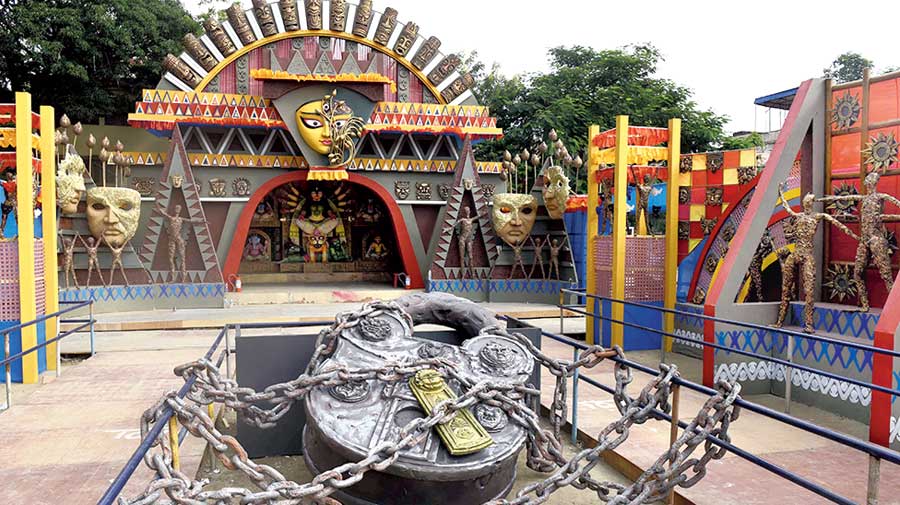 ---
|
Calcutta
|
Published 22.10.20, 01:37 AM
---
The Bengal government started a slew of measures to implement the Calcutta High Court order declaring puja pandals no-entry zones to contain the spread of Covid-19 as soon as the high court on Wednesday upheld its previous order with minor changes.
From public announcements on the court order to barricades around pandals and vehicle curbs within a 2-3km radius, districts are trying to ensure festive crowding is kept to the minimum amid the pandemic.
A senior state government official said they wanted to ensure no crowding. "District authorities have been given a go-ahead to implement the high court order and make puja pandals no-entry zones. As steps could vary from one pandal to another, districts have been asked to decide on the required measures to ensure that visitors are kept away from pandals," the official said.
In several districts, authorities have deployed teams making public announcements of the key features of the Calcutta High Court order, and explaining why it was prudent to stay indoors.
"The massive campaign is being carried out mainly in district towns where thousands flock to puja pandals. Major Durga Pujas, including some family ones outside the district towns that draw huge crowds every year, are also under the scanner," said a district magistrate. He said the mass awareness campaign would continue for the next few days.
"We will also make people aware that wearing masks is a necessity if they come out of home during this festive season. We are also explaining why they should not visit puja pandals this year," said another district magistrate.
Most district authorities have decided to create a buffer zone around major pandals in the districts.
Authorities have already restricted the movement of passenger vehicles, including rickshaws and e-rickshaws, within a radius of 2-3km of major pandals.
"This will help us manage the crowd efficiently. If we can restrict the movement of people by creating a buffer zone ahead of barricades surrounding puja pandals, it would be much easier for the police to prevent people from approaching pandals," said a police officer in a south Bengal district.
District authorities have also asked organisers of major pujas to put up barricades surrounding their pandals.
"We don't want to force anybody (to put up barricades) and we seek cooperation from puja organisers. This is why puja organisers have been asked to barricade their pandals to help the administration. As most puja organisers received financial support from the state government, it may not be a tough task," said a district official.
A Nabanna official said district officials were in talks with major puja organisers in districts to find out if live streaming of puja on Facebook for a certain period of time on festive days could be arranged.
"This (puja streaming) will help us manage the crowd. If people can see puja pandals by sitting at home, it is expected that lesser number of people could come out on streets," said the official.