Deocha-Pachami project: Coal found after 160ft-deep drilling
The development is significant as it was estimated earlier that coal was deposited much deep under the ground, about 800 meters to 3,000 meters under earth's surface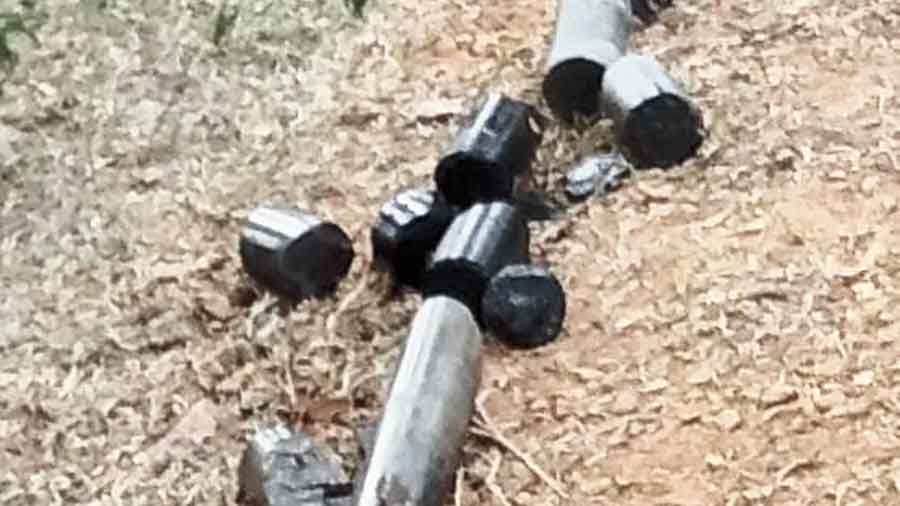 Coal extracted from 160-ft below the ground in the drilling.
File photo
---
Calcutta
|
Published 16.07.22, 01:30 AM
|
---
The Bengal government has found coal just about 160ft under the ground during the first drilling exercise carried out in the area of the proposed Deocha-Pachami coal mine project.
The development is considered to be significant as it was estimated earlier that coal was deposited much deep under the ground — about 800 meters to 3,000 meters under the surface of the earth — making mining of coal a difficult task here.
"It is a boost for our plan as coal was found only about 55 meters deep under the ground during the first drilling exercise that started yesterday (Thursday). The coal might not be so easily available in the rest of the project area, but it is definitely a sign that mining of coal might not be as difficult as it was considered earlier," said a senior government official.
The authorities plan to drill at 14 places spread across 3,400 acres or 9.7sqkm of the project area. In the first phase of the project, which is spread across an area of 2.61sqkm, drilling exercises will be undertaken first.
The drilling is important for the coal mine project as it will give an idea of how deep the coal reserve is and based on the finding, the final mining plan is prepared. The quality of coal is also defined through the drilling exercise.
As more than 2,500 of 4,500 land-losers have given consent to part with their plots for the coal mine, the future appears bright for the project, particularly after the coal layer was found only under 55 meters from the ground level.
"The coal layer was found just 160ft under the ground and samples were also collected. Now, the experts will check the quality of the coal. We have to drill more than 13 points to determine coal layers at other places which fall under the first leg of the project," said Birbhum district magistrate Bidhan Ray, who visited the spot of drilling after coming to know that coal layers had been found.
"The experts on the ground had confirmed that the samples were of coal and the quality was apparently good. But it is not the final word as those samples would be tested by experts at a laboratory to certify the grade of the mineral," said a senior official.
Officials said according to a rough report available with them, the expected coal layer at the certain point was around 220-250 feet under the ground throughout the area of the first phase of the project.