Defacements and graffiti vigil
Trinamul and BJP complained that rival party workers are smearing their graffiti with cow dung or black or white paint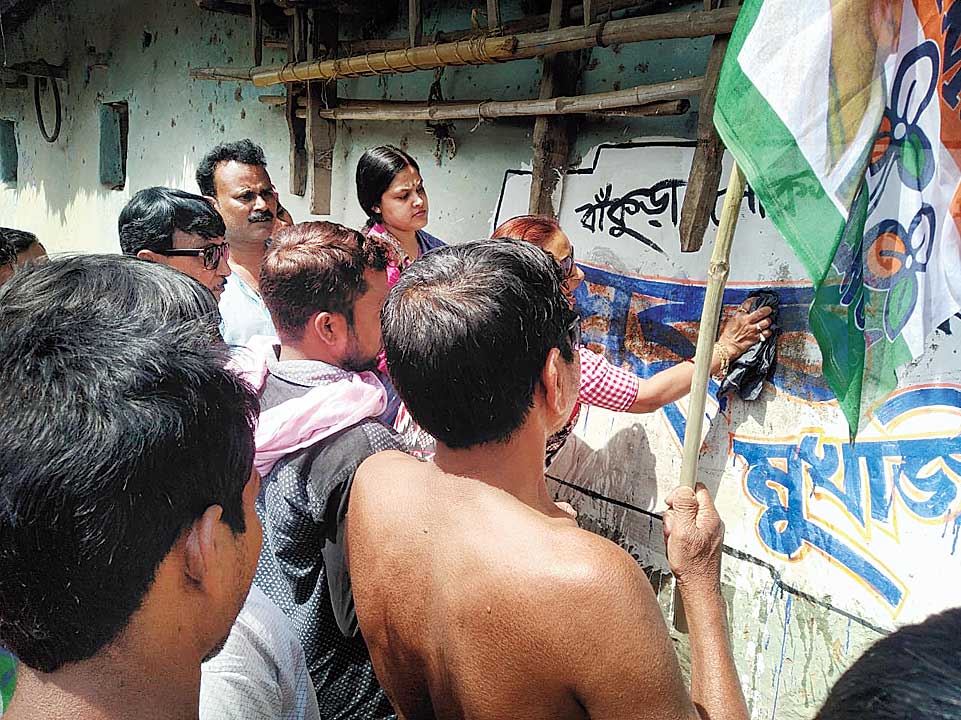 ---
Bankura
|
Published 31.03.19, 07:53 PM
|
---
Trinamul and BJP leaders in Bankura have asked their workers to maintain vigil on walls as both parties are having trouble in saving their wall graffiti.
Both parties complained that rival party workers are smearing their graffiti with cow dung or black or white paint.
The BJP in Bishnupur alleged that over 50 wall graffiti of their party nominee Saumitra Khan were whitewashed in different places in the past few days.
On Sunday, Trinamul leaders and workers were seen cleaning several wall graffiti of the party's nominee for the Bankura Lok Sabha seat, Subrata Mukherjee.
Both parties have lodged complaints with the Election Commission. On Saturday night several wall graffiti in Kenjakura area in Bankura seat were smeared with cow dung, allegedly by BJP workers.
MLA Shampa Daripa, who earlier switched allegiance from Congress to Trinamul, was seen cleaning graffiti for Lok Sabha nominee Subrata Mukherjee. The area is a BJP pocket as the Kenjakura gram panchayat is run by the BJP.
Arup Khan, Trinamul's Bankura district president, said: "We have already lodged a complaint with the Election Commission in this regard. We have directed our party workers to maintain vigil in all areas to prevent defacing of our wall graffiti."
BJP leaders in Bishnupur said that they have found
over 50 wall graffiti in different areas, which were smeared with white or black paints allegedly by Trinamul workers.
The local party nominee Saumitra Khan has uploaded a video on the social media where a few persons were seen smearing white paint of on a wall graffiti written for his campaign.
Swapan Ghosh, BJP president in Bishnupur, said: "We are yet to count how many of our wall graffiti were defaced. We have lodged several complaints with the Election Commission. We have asked our party workers to maintain vigil."
District magistrate Uma Sankar S. said: "We are looking into all complaints related to wall graffiti."