Dalmiya daughter harassed
Read more below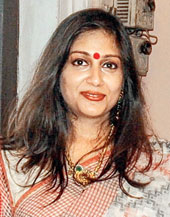 ---
Published 09.04.13, 12:00 AM
|
---
Vaishali Dalmiya
Vaishali Dalmiya, daughter of Jagmohan Dalmiya, was allegedly chased and stalked by two youths in a Honda City on her way home in her Mercedes at New Alipore around 10pm on Monday.
Rohan Arya and Sashank Jain, both in their early 20s, were arrested for harassing Vaishali.
"I initially ignored them but they kept swerving in and out of our way," Vaishali told Metro.
"I even asked the driver to let them drive past us," recounted the daughter of the CAB president, who was going home to Behala Chowrasta from her office on Shakespeare Sarani.
The youths apparently drove away but, on reaching Majherhat bridge, Vaishali spotted their car parked. They were waiting to hound her.
Just as Vaishali's car had crossed the Honda City, the youths dashed against her car, damaging the Mercedes.
"One of the doors of my car was damaged. I stepped out and challenged them. They kept teasing me," said Vaishali.
Arya and Jain were arrested after Vaishali alerted cops posted nearby. The two were taken to New Alipore police station. Vaishali, too, accompanied them and lodged a complaint.
"The youths were arrested. We are interrogating them to establish their identity. They will be produced in court tomorrow," said Vishal Garg, the deputy commissioner (south).
Arya and Jain have been booked under sections 279 (rash driving), 338 (traffic-related injury), 427 (causing damage to car) and 354D (stalking a woman).