Doctors for cyclone-hit
Physicians have rushed from Calcutta to conduct medical camps at devastated places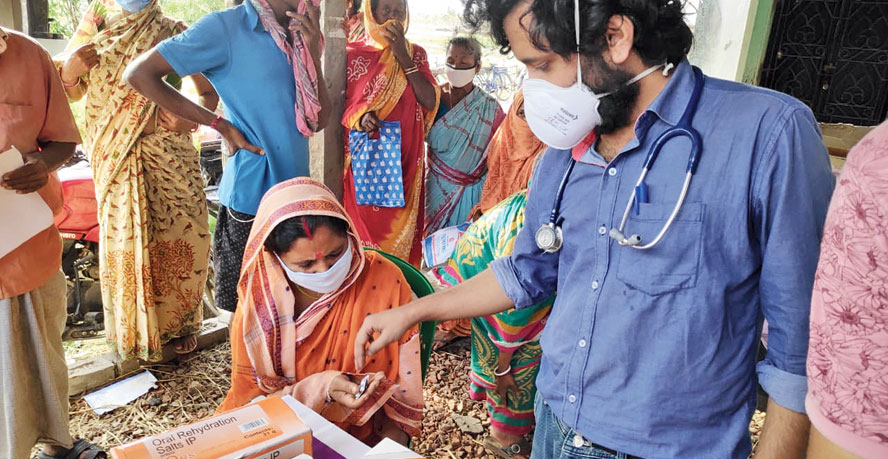 ---
---
Cyclone Amphan has affected government healthcare system at over 100 villages in South 24-Parganas and North 24-Parganas where thousands of people lost their homes and are depending on dry food.
However, doctors have rushed from Calcutta to conduct medical camps at the devastated places.
The villagers said a large number of them had received injuries during the cyclone, while several others were suffering from enteric diseases and chest infections for staying waterlogged and roofless for days.
"The doctors from Calcutta have come as a saviour as the option for us was to travel 20km to the hospital in Raidighi. Villagers were suffering from cold, fever and chest infections and could only get treated when a team of doctors came on Wednesday," said Mahesh Mondal, a villager of Kuemari village in South 24-Parganas.
"The main problem is with pregnant women. We are sending them by cars or boats to hospitals before their delivery dates," he added.
A team of five doctors representing the Doctors for Democracy and Vanguard reached Kuemari, Heramba-Gopalpur and its adjoining villages to provide free treatment by setting up temporary camps. Another team went to Hingalganj, North 24-Parganas.
"In the past two days, we treated at least 800 patients at several camps in the Amphan-affected areas. We will be here for five days. People are coming to our camps with injuries, chest infection and stomach diseases," said Soumitra Guha, a Calcutta-based doctor.
Tapas Purkait from Heramba-Gopalpur had suffered injuries to the leg but could not get treatment since Amphan made landfall. He had turned up at the health camp on Wednesday and got treated.
"There are hundreds like me who had suffered injuries during the cyclone or after the disaster. We are in pain as we couldn't get treatment. The doctors at the camp gave me medicines and tied a bandage around my wound," said Tapas, 30, a farmer.
Chandan Maity, headmaster of a high school in Mathurapur, coordinated with the team of doctors after he found out that several villagers required medical intervention.
"I thank the doctors for reaching out here as there were no healthcare facilities for trouble-trapped people in the Sunderbans. We also distributed a few tarpaulin sheets and relief materials with the help of a local NGO Mukti," said Maity.
The West Bengal Doctors' Forum, an organisation of medical professionals, will hold similar camps in Sandeshkhali and its adjoining areas on May 31.
Bangla Sanskriti Mancha and Amphan Relief Network are also sending teams to the cyclone-hit areas.
"From food to shelter and health, lakhs of people in the two districts are in trouble. We are also sending teams of doctors to remote pockets," said Samirul Islam, president of Bangla Sanskriti Mancha.