Crime shadow on trade hub - Musclemen from neighbouring states run extortion, robbery & gambling rackets in Burrabazar
Read more below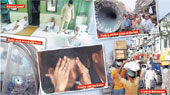 ---
---
They deal in crores, but spend sleepless nights.
With the crime graph soaring in Burrabazar, the biggest retail and wholesale market in the city, the businessmen are living in fear of extortion, robbery and even gunshots.
Last week's raid by criminals at businessman Gopal Kedia's office — gaddi in Burrabazar parlance — on Maharshi Debendra Road has spread panic. Police are yet to arrest the gang.
"The four gang members were all carrying firearms. When my son Gopal declined to pay up, one of them fired at him. The bullet hit him on his right hand," recalled 80-year-old Prabhu Dayal Kedia, sitting in the Posta gaddi.
The Kedias trade in pulses and regularly meet business associates from across the country at the office, which is decorated with images of Ganesh and Lakshmi.
Like most Marwari businessmen, the family maintains a low profile, but it is difficult to dodge the local criminals, who find out business volume to decide on their targets in the trade hub. Business opportunities have attracted nearly 50,000 merchants from across the country, who deal in clothes, foodgrains, spices and a host of other items, to Burrabazar. But musclemen have followed them to the hub.
From providing protection to businessmen and transporting their black money to running a satta racket and settling property and payment disputes, these men, mostly from the neighbouring states, start off as confidantes of the trading community. "In a few years, they break free and form their own gangs to extort money and engage in other forms of criminal activities," said a detective department officer.
According to him, Ramdev, alias Bhola, Manoj Singh and Pappu, all from Bihar, are some of the criminals who operated in the bylanes of Burrabazar. Another prominent name is Gopal Tiwari, who had contested from the area in the Assembly elections as a Shiv Sena candidate.
"They are now behind bars, but their henchmen are carrying on extortion and robberies. It is difficult to keep a tab on the criminals as some businessmen provide shelter to them," added the officer.
Sona Patti in Burrabazar is the gambling hub of the city, where bets are placed on everything, from weather to cricket. Foreign exchange, gold and silver coins and gold bars, worth more than Rs 25 crore, are traded every day in the zone. The murder of Krishnapada Mondal, a gold ornament dealer, in December exposed the flip side of the risky business.
"Criminals rule here. I am at their mercy. Police can hardly take action against them," said D. Kalani, who owns a steel factory on Durgapur Road and a gaddi in Posta.
Most traders in the hub allege police inaction, which has forced some of them to hire private security guards.
Police are quick to defend themselves. "Businessmen do not report crime in Burrabazar as they do not want to disclose the details of illegal transactions," claimed a senior police officer.
Local Trinamul Congress MLA Dinesh Bajaj said: "A section of the businessmen is also to be blamed for the situation. Police alone cannot solve the problem, as insiders tip off criminals. We should join hands to counter the menace."