CPM hurls booklet to attack Trinamul Congress 'graft'
According to party sources, Bogtui carnage exposed TMC's internal rift over spoils from illegal trade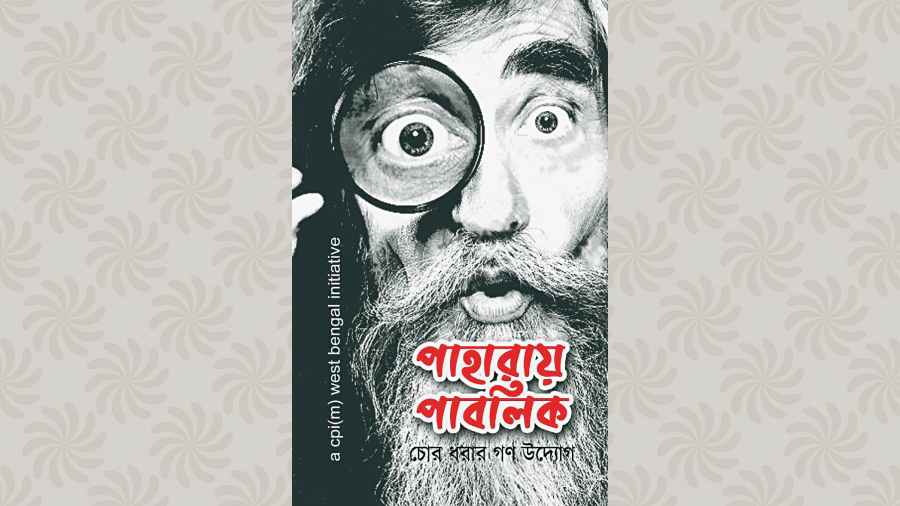 CPM's booklet 'Paharaye Public'
Telegraph Picture
---
Calcutta
|
Published 29.05.22, 12:34 AM
|
---
The CPM on Saturday brought out a booklet with a list of names of Trinamul leaders, who allegedly own properties disproportionate to their known sources of income.
The publication, multiple sources in the party said, was part of the CPM's attempt to make corruption an issue in the run-up to the 2023 panchayat polls.
A first-of-its-kind attempt by the CPM, the booklet has been prepared on the basis of information anonymously shared by people under the Paharaye Public (People on the guard) initiative of the party, said CPM leaders.
"We received thousands of entries. They are still coming in. We chose these names randomly for the first draft. Many such drafts will follow and we will build a campaign on these," said Md Salim, the CPM state secretary.
The CPM, which didn't get a single seat in the Assembly polls held last summer, launched the Paharaye Public initiative in March this year in the aftermath of the Bogtui killings as a part of its preparations for next year's panchayat polls.
Party sources said that as the Bogtui carnage exposed Trinamul's internal rift over spoils from illegal trade, the party sensed an opportunity to try and attack Bengal's ruling party over corruption.
"Bhadu Sheikh, the local Trinamul leader whose murder sparked the Bogtui carnage, owned a massive multi-storey building. Anarul Hossain, Trinamul block chief arrested in connection with the killings, owns a sprawling house. We sensed that local people didn't like the manner in which these people had amassed wealth. There are such examples across the state and we want to bring them to the forefront so that people get to know what Trinamul leaders have done in rural Bengal," said a CPM source.
Immediately after the Bogtui incident, Salim visited the area and raised questions on the sources of income of local Trinamul leaders like Bhadu and Anarul.
Though corruption has never been a major political issue in Bengal, CPM insiders think that the allegedly huge assets amassed by Trinamul leaders in rural areas has changed the scenario.
"Even the chief minister has begun prodding her party colleagues openly in public meetings. This is an admission that there is something wrong and we want to repeatedly stress this point," said a CPM leader.
The first list names 19 local Trinamul leaders of six districts — Howrah, Hooghly, Bankura, East Burdwan, North 24-Parganas and South 24-Parganas.
Apart from names and locations of local Trinamul leaders, the booklet briefly mentions the kind of allegations that people have levelled against them.
Images of four sprawling mansions, allegedly owned by Trinamul leaders at panchayat levels, have also been included in the booklet.
"We shall come up with other names and pictures slowly so that all these thieves are exposed," Salim said.
Trinamul spokesperson Kunal Ghosh mocked the CPM's initiative and demanded a list of Left leaders with disproportionate assets till 2011 be published first. "Just because someone has a big house doesn't mean he is corrupt. Our party goes through a continuous process of purification. We don't need CPM for that," Ghosh added.
Trinamul land clash in Malda
Two factions of Trinamul in a Malda village attacked each other on Saturday over a parcel of land.
Bombs were lobbed, gunshots fired and at least 10 houses ransacked during the clash at Gopalpur village.
Police recovered live bullets and bombs from the site.
Local sources said that this dispute was of some years.
Over the past few years, Saifuddin Sheikh, a member of the Trinamul-run Manikchak panchayat samity, and Nasir Ali, the Trinamul president of Gopalpur, have allegedly been at loggerheads over the ownership of a 64-bigha plot in nearby Chowki-Mirdadpur.
Both Ali and Sheikh accused each other of violence.
District Trinamul leaders distanced themselves from the incident and said it was merely a clash between two groups.
Soumya De Sarkar