CPM Feluda for 'Double M' whodunnit
Party cartoons on sleuths in social media campaign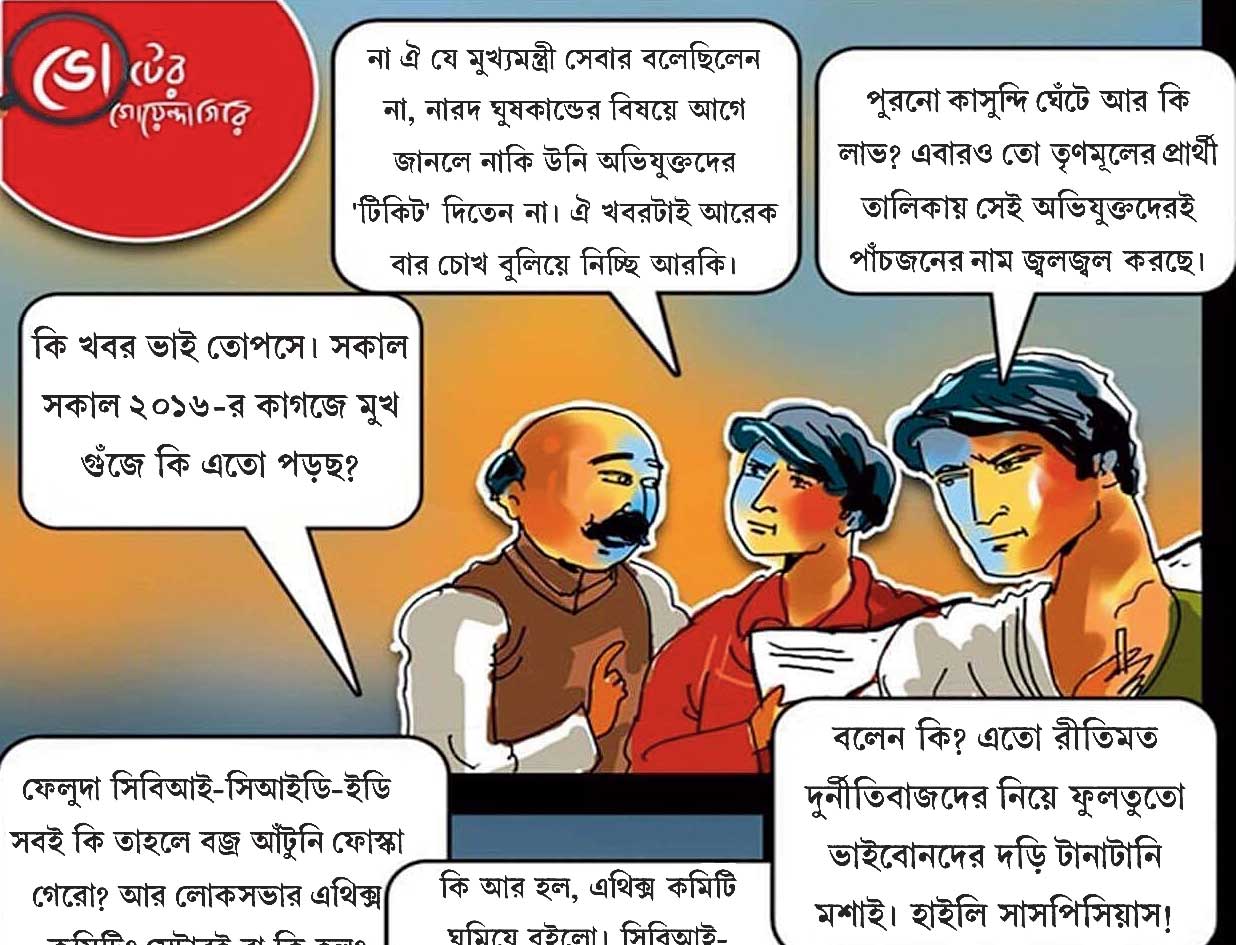 A CPM cartoon depicting the detective characters.
(Picture courtesy: CPM)
---
Calcutta
|
Published 28.03.19, 08:13 PM
|
---
This election season, the CPM's "Pradosh Mitter and Byomkesh Bakshi" are on the "Double M" trail.
The Left party's young turks are in whodunit mode on Double M — Narendra Modi and Mamata Banerjee — and have unleashed cartoons featuring the fictional Bengali detectives in its social media campaign.
Feluda — as Mitter was famously known — and Byomkesh are not alone. Feluda's understudy, Topshe, and friend Jatayu are part of the strips too, as is Byomkesh aide Ajit. "We have launched our digital campaign through the eyes of private investigators. And who else can we think of other than Feluda and Byomkesh?" said Jaydeep Mukherjee, who is spearheading the campaign.
Thanks to films and TV, both Feluda and Byomkesh — created by Satyajit Ray and Sharadindu Bandyopadhyay, respectively — are etched in popular imagination.
According to Mukherjee, the campaign uses full-page comics featuring the detectives to focus attention on issues like corruption, unemployment, agricultural distress and healthcare problems.
Some of the cartoons depict Byomkesh and Ajit trying to decipher the mystery behind the disappearance of Vijay Mallya, Nirav Modi and Mehul Choksi while Prime Minister Narendra Modi and BJP chief Amit Shah — both calling themselves chowkidars (watchmen) — look on.
Mukherjee said a team of 14 was creating the cartoons. Use of such satire is not new. In Asansol last year, Trinamul had distributed among college youths a 16-page pamphlet of cartoons lampooning the Modi government.