Covid threat halts entry of goods to Bhutan
Woman (37) who tests Covid positive, triggers the action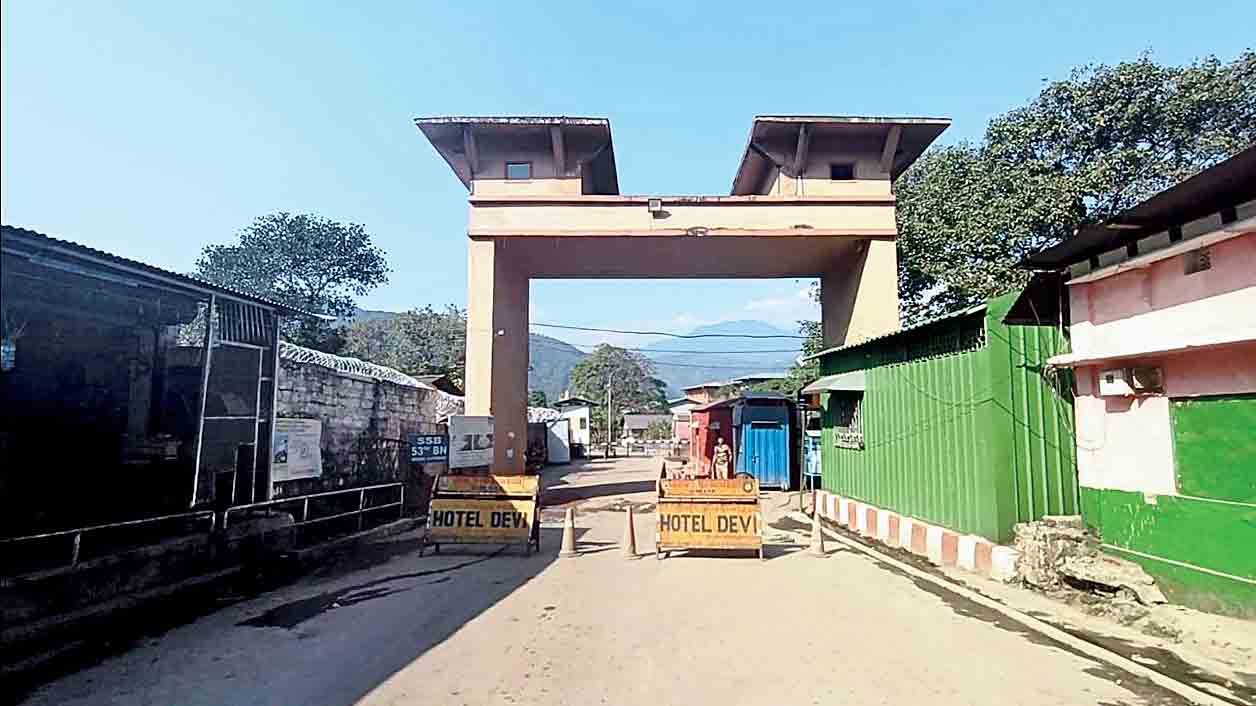 The closed Bhutan entry point near Jaigaon
Anirban Choudhury
---
Alipurduar
|
Published 08.01.22, 03:01 AM
|
---
The Bhutan government on Friday halted movement of goods vehicles into the country through all entry points after a 37-year-old woman had tested positive for Covid 19 at Phuentsholing, the commercial capital of the nation that shares borders with Alipurduar district of Bengal.
Sources said the woman worked at a restaurant.
"She had received both doses of vaccine and also a booster dose. This made the authorities initiate contact tracing and announce a three-day lockdown from today. In the first 24 hours of the lockdown, all movements have been suspended. On Saturday, essential movements, including transport for exports and imports, shall be facilitated accordingly," said a source.
As a result, hundreds of trucks which carry various commodities to the neighbouring country and enters Bhutan through three entry points — two in Jaigaon that connects Phuentsholing and one on the outskirts of Jaigaon along Asian Highway 48 that links Pasakha — were left stranded.
Every day, around 600 trucks from India ferry various items ranging from food grain, baby food, electrical goods and medicines, to Bhutan through these border transit routes.
Meanwhile, in Bhutan, 82 new Covid cases have been reported in the past 24 hours. Among the patients, 12 are Bhutanese while the remaining 70 are non-Bhutanese, said a data published by the ministry of health of the country.
The health ministry, sources said, has also passed an instruction, mentioning that residents of Phuentsholing and adjoining areas, who had come in contact with the patient during the past three days, should visit their nearest clinics for tests.
In the past six months, the situation had improved in Phuentsholing. Although residents of Jaigaon could not cross the border as they used to do earlier, offices, educational institutions and other establishments had opened up.Anybody visiting Bhutan had to stay in quarantine for 15 days and can then go to any place in the country.
"It has also been mentioned that those who have travelled from Phuenthsholing to other high risk areas of the country since January 3 should also visit the clinics for Covid tests," said a source.