Covid: Slew of steps to combat virus in Bengal
Local train services suspended, Metro, govt buses to run at half capacity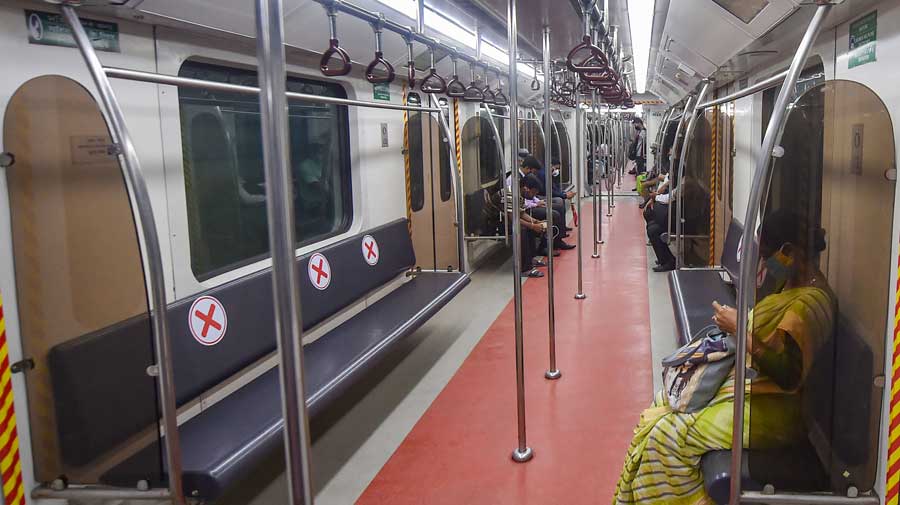 Commuters travel in a nearly empty coache of Calcutta Metro on Wednesday.
PTI
---
Calcutta
|
Published 06.05.21, 01:58 AM
|
---
Local train services will be suspended in Bengal from Thursday while buses and Metro trains will be allowed to operate at half their capacity to contain the spread of the coronavirus.
Mamata Banerjee announced a raft of measures to tackle the Covid crisis soon after being sworn in as chief minister for the third consecutive term on Wednesday.
"We have to impose some restrictions to prevent the spread of Covid-19. Don't misunderstand us. We have to take some measures to prevent further spread of the virus," the chief minister said.
The April 30 order closing shopping malls, gyms, sports complexes, cinemas, bars and restaurants will continue to be enforced.
After holding a meeting with senior government officials in Nabanna following her swearing-in at the Raj Bhavan, the chief minister tweaked some existing measures and announced new steps, adding that the situation would be monitored daily. Bengal reported its highest-ever daily case count — 18,102 — on Wednesday.
"Additions and alterations to the existing order will be done based on how the situation unfolds in the next few days. The chief minister is against a complete lockdown. She is in principle against measures that would cast a shadow on people's livelihood," an official said.
The new restrictions announced by the chief minister, which would come into force from Thursday, are:
⁍ All local trains will be suspended.
⁍ All modes of road transport will run with 50 per cent passenger capacity.
⁍ Metro trains will operate with 50 per cent of the passenger capacity.
⁍ Bank working hours have been curtailed; the banks will operate from 10am to 2pm.
⁍ Political gatherings will be discouraged.
⁍ A negative RT-PCR test report is mandatory for all air passengers entering Bengal. The test has to be done within 72 hours before boarding. This will come into effect from May 7.
⁍ Anyone who arrives without a negative test report will have to remain in 14 days' quarantine at their own cost.
⁍ A negative RT-PCR test report has been made mandatory for those coming to Bengal on long-distance trains and inter-state buses.
⁍ Private organisations will be encouraged to operate with 50 per cent attendance in each shift while government offices will continue to function with half their employees at any given time.
⁍ Attendance at factories, industries, mills, manufacturing units and tea gardens will be restricted to 50 per cent of the total strength in each shift.
⁍ Not more than 50 people will be allowed at cultural and religious programmes. Prior permission will be necessary.
⁍ A maximum of 50 people will be allowed at marriages and other family gatherings. Not more than 20 people will be permitted at funerals.
The following changes have been made to the April 30 order:
⁍ Shops selling essential items and markets can be kept open from 7am to 10am and from 5pm to 7pm. Earlier, shops were allowed to operate between 3pm and 5pm in the afternoon while the morning timings have remained unchanged.
⁍ Jewellery shops will be allowed to remain open between noon and 3pm from Monday to Friday.
The state government will for now focus on giving the second dose of the Covid vaccine because of the irregular supply from the Centre.
"More than 1.2 crore people who are above the age of 45 years have been vaccinated so far. Of them, 40 lakh people have got their second dose. The focus is to complete the second dose for the remaining 80 lakh people," an official said.
The chief minister directed that transport workers and hawkers be inoculated immediatey. "They come in contact with many people every day. So we have decided to bring them under the vaccination programme immediately," Mamata said.
Efforts are on to add a total of 3,000 Covid beds at private and government hospitals. Bengal will then have 30,000 Covid beds.
The state government has decided to involve more than 2.5 lakh "quacks", or untrained medical practitioners, in Covid care. "These quacks will provide primary treatment to Covid patients. They will be given primary guidelines," Mamata said.
Sources in the health department said the decision was significant against the backdrop of a sharp increase in Covid cases in the rural areas. The sources said the virus had not spread to the rural areas during the first wave but the situation was different this time because of the election rallies.
"As rural areas don't have a strong infrastructure to deal with serious patients, the number of deaths is high this time. The quacks will come in handy for us as they can inform the officials about the spread of the disease in a particular area," an official said.
The government has also decided to sanitise all school buildings that had been taken over to put up central force jawans or police personnel during the Assembly elections. Offices and markets will also have to be sanitised regularly.
Emergency services such as medicine shops, milk booths and sweet shops and all centres relating to health, fire services, electricity, telecom and municipal services will be kept out of the purview of the restrictions.