Covid: Oxygen for Delhi from Bengal
SAIL-run Durgapur Steel Plant dispatched 120 tonnes of the liquid medical life supporting gas in six containers to the capital via rail route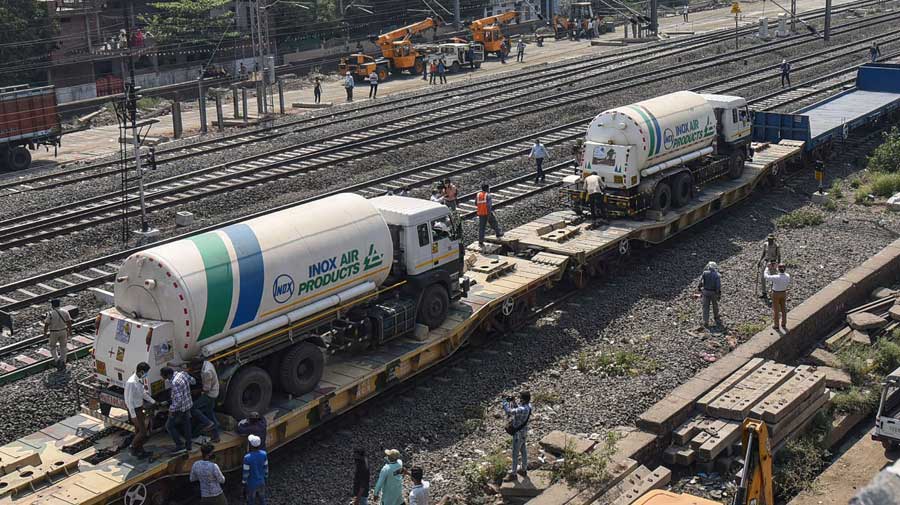 ---
Durgapur
|
Published 02.05.21, 01:22 AM
|
---
The SAIL-run Durgapur Steel Plant on Saturday dispatched 120 tonnes of liquid medical oxygen in six containers to Delhi via rail route, against the backdrop of Mamata Banerjee's allegation that the Centre was diverting Bengal's supply to other states. 
The railways for the first time created a green corridor between Durgapur and Delhi — a distance of about 1,400km — for faster movement of the "Oxygen Express" to the capital that is reeling from a shortage. 
Railway officials at the Asansol divisional headquarters said the train left Durgapur around 2pm and was expected to reach Delhi within 24 hours.
The Bengal chief minister had told a media conference in Durgapur last week that the Centre was behaving in a "step-motherly" fashion towards the state even in the midst of a pandemic.
"The Centre suddenly stopped our supply chain of oxygen cylinders and asked SAIL to send them to Uttar Pradesh (and other) BJP-ruled states. (This is) yet another instance of step-motherly treatment. I have strongly objected to this and have written to the Prime Minister," Mamata had said.
Bengal, like many other states, is witnessing an acute crisis of oxygen cylinders, which are in high demand because a large number of people are being treated in home isolation. Mamata had said earlier that the state had around 20,000 oxygen cylinders. "We are in the process of arranging 5,000 more," she had said in Durgapur last week.
Officials said there were concerns that with the allotted 223 tonnes of oxygen, the state might not be able to manage the situation as infections were rising sharply.
"We have requested (the Centre) if we could be allowed to use oxygen produced in our state as we fear we would require more than 450 tonnes of oxygen over the next few days," said a source.
A source in SAIL said: "Around 2,200 tonnes of LMO (liquid medical oxygen) have been supplied through our two units — the Durgapur Steel Plant and the IISCO Steel Plant in Burnpur — to Uttar Pradesh and Maharashtra in April when the crisis of oxygen started because of the second wave of the pandemic."
Sources at Durgapur Steel Plant said the unit itself had previously dispatched 6,686 tonnes of LMO to various states, including Bengal, since August last year, but the supply was suddenly paused last month.
Sources in SAIL said that they had enhanced production to more than 900 tonnes per day. "We have received an order from the ministry asking us to enhance production and dispatch LMO on a priority basis. We are doing the job to the best of our abilities," said a spokesperson for Durgapur Steel Plant.