Floating body in Ganga sparks fear in Malda
The residents are worried as the corpse could be of a Covid patient from another state tossed into the river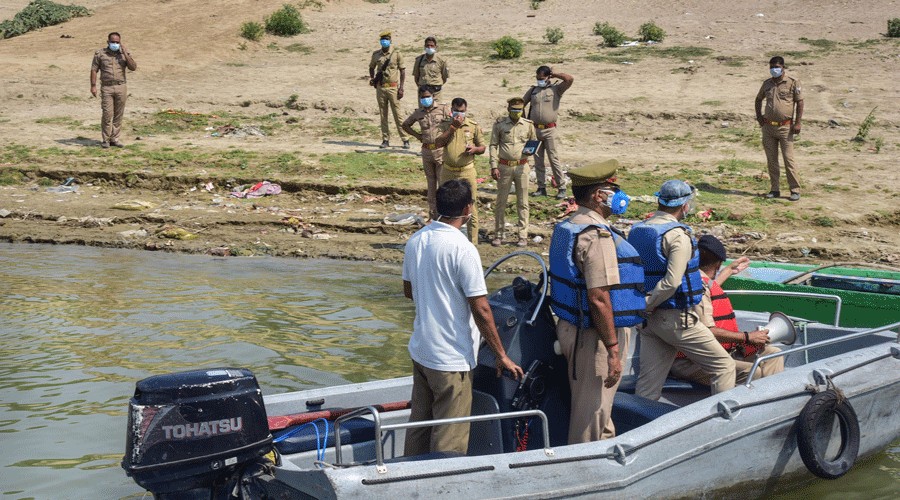 Police officers search after dead bodies were found in the nearby districts of the Ganges river, Varanasi. This is the first time that a body has been recovered from Ganga on the Bengal border following reports of such incidents in Uttar Pradesh and Bihar.
PTI File picture
---
Malda
|
Published 06.06.21, 01:04 AM
|
---
A body was recovered from river Ganga on Saturday morning, while residents claimed another body was swept away by the current, in Malda where the river enters Bengal from the Jharkhand border.
Residents fear that the body could be of a Covid patient from another state tossed into the river.
This is the first time that a body has been recovered from Ganga on the Bengal border following reports of such incidents in Uttar Pradesh and Bihar.
Police have confirmed recovering the unidentified and decomposed body from the Ganga.
Sources said that a body was found stuck on a bend of the river by residents of Kesharpur village of Bhutni islet under Malda's Manikchak police station. Villagers claimed another body was carried away by the river's current.
"The body that was found was beyond recognition. We will follow the statutory measures as directed on post mortem and last rites. As people have claimed to have seen another body in the river, we are keeping watch," said SP  Alok Rajoria.
The district police chief said no missing complaint had been filed in the area in the past few days, which suggests that the body may have found its way here from a neighbouring state. "There is a possibility of that, but it is difficult to confirm," said Rajoria.
Residents are sure that the body floated from another state. Bholanath Mandal, a Kesharpur resident, said: "We could not identify the body and are sure it came from outside as all villagers here are vouched for. We think it is that of a Covid patient from elsewhere."
People have stopped bathing in the river. Fishermen have stopped casting nets after news of 'bodies" in the Ganga spread, said sources.
Debajyoti Sinha, district secretary of CPM-backed labour union Citu quoted villagers to say the second body, which could not be found, was wrapped in coloured plastic.
A senior administrative official said: "It  is too early to comment on the origin of the body and if it was of a Covid victim. But  all those who died of Covid in Malda and Bengal as a whole have been suitably cremated or buried."
Rajarshi Mitra, Malda district magistrate said: "We have been keeping watch on the Ganga. The body recovered would be dealt with according to protocol and directives from higher-ups."
Fake cops arrested
Alipurduar police arrested four persons from Jaigaon town along the Indo-Bhutan border for impersonating men in uniform and demanding ransom from a trader.
Police said four local men, Kiran Sharma, 33, Shubash Lama, 26, Biswakarma, 27, and Migma Dorjee, 26, pretended to be cops and raided the house of grocer Dharam Kumar Gupta at Deokota Tole in Jaigon on May 29. They allegedly demanded Rs 3 lakh and threatened him with a gun. On Friday night, when they called up Gupta for ransom, he shared the phone details with police, which was traced to Kiran and all four were arrested.
Additional reporting by Anirban Choudhury