Protests against quarantine centres
Government officials face resistance from residents at several south Bengal localities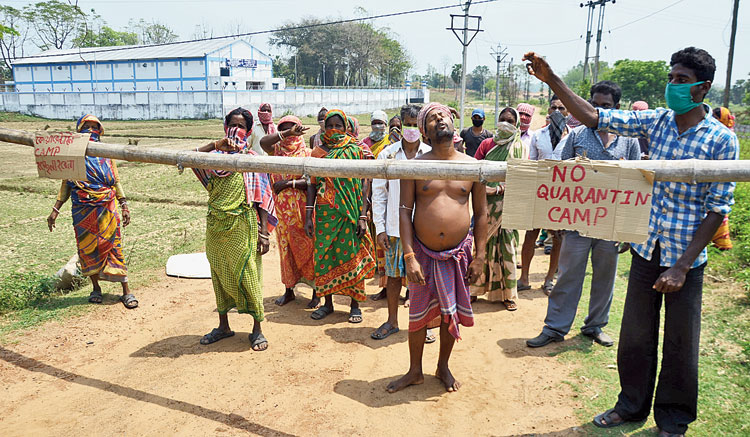 ---
---
Protests have erupted in several south Bengal districts against establishment of Covid-19 quarantine centres despite chief minister Mamata Banerjee's appeal to people not to oppose such facilities.
Since Saturday, at least three such protests have occurred in Birbhum and Hooghly. One person was killed by a crude bomb in a clash that broke out over the establishment of a quarantine centre at a hostel in Birbhum's Parui.
Sources said residents of at least half a dozen areas of south Bengal had made their objections clear to police and government officials. The protests prompted the authorities to launch an awareness campaign saying no "confirmed" Covid-19 patient would be kept at those centres.
On Friday, the chief minister had said: "I am getting information (about protests) from a few places and I request people, with folded hands, not to do this. Nobody (apparently) wants a Covid-19 hospital in their area, and a few are opposing the last rites of the bodies of Covid-19 patients. It is not right, as we all are human. We are setting up separate hospitals for the treatment of Covid-19 patients in various districts. We all need to fight together."
Nasiruddin Sheikh, a marginal farmer, was killed by crude bombs while leading a protest against the setting-up of a quarantine centre at the girls' hostel in Talibpur village on Saturday evening.
Police sources said two groups of people belonging to rival factions of Trinamul — with opposing views on whether the quarantine centre should come up there — had clashed.
The incident occurred after police and block officials had returned from duty. Seven persons, including a civic volunteer, were arrested on charges of murdering Sheikh.
"We had chosen the place as a quarantine centre for future use. The local block development officer had informed us that the quarantine centre would not be set up if the villagers objected. But a clash began because one particular group wanted to have the quarantine centre there," a senior Birbhum district official said.
The episode had also taken a political turn with Birbhum Trinamul Congress leaders like Anubrata Mondal claiming that BJP workers were spreading false rumours in rural areas. "We have information that a group of BJP workers and leaders at the local level are instigating people to launch such protests against quarantine centres," said Mondal.
The BJP has denied the allegation.
On Sunday morning, a group of villagers in Hooghly's Goghat blocked a road adjacent to a newly constructed godown of the food and supply department that had been proposed by the local administration as the site of a quarantine centre.
"The building is close to our houses and we will not allow it. So, we protested and blocked the road with a barricade so that no one could enter there," said Ujjwal Mallick, a resident of Methul.
The local administration said they would send a team to the village to make people aware of the role of quarantine centres as places where contacts of primary Covid-19- patients would be kept isolated.
"I will send a team headed by the local BDO to make people aware of quarantine centres. People should know that confirmed Covid-19 patients are not kept there," said Nripendra Singh, the subdivisional officer of Hooghly's Arambagh.
In another development, a group of residents of Chinsurah in Hooghly on Sunday agitated in front of a private hospital for over an hour after it was selected by the government as an isolation centre for symptomatic and suspected Covid-19 patients.
The agitators said keeping such patients would spread the novel corona virus in their area.
"It is very unfortunate that few uninformed persons are instigating common people to launch such protests. They should be more humane," said Trinamul's Hooghly president Dilip Yadav.