MLA wields 'gun' to check body temperature
MLA has checked at least 3,800 people from all walks of life, including security guards, nurses and grocers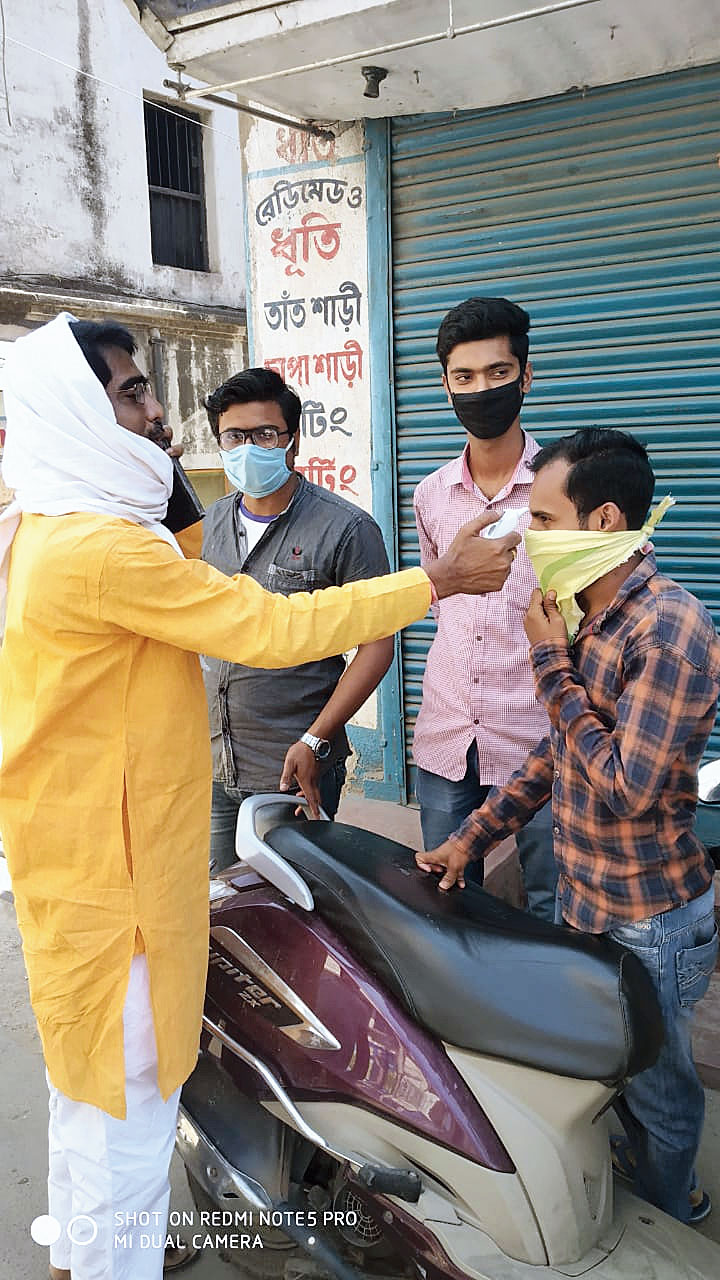 MLA Rashid reads temperature of a youth in Rampurhat on Sunday
Telegraph picture
---
Rampurhat
|
Published 05.04.20, 08:49 PM
|
---
A Congress MLA in Birbhum district has been touring his constituency with an infrared thermometer and checking people's temperature following reports that many refuse to visit hospitals despite having fever because of stigma attached to Covid-19 and fear that they will be quarantined.
Hansan MLA Milton Rashid procured the device from a friend in the health department by paying Rs 14,000 from his pocket. The infrared thermometer can measure temperatures without physical contact.
The 44-year-old legislator tours at least 80km of the Rampurhat 1, 2 and Nahati 2 blocks every day with the thermometer. "I am thinking of procuring one more such device so that two persons can check temperatures," said Rashid, a lawyer by profession.
Since Wednesday, Rashid has checked at least 3,800 people from all walks of life, including security guards, nurses and grocers. He came across six persons with fever and they were immediately referred to doctors.
"In March and April, it is quite natural for one to get fever or common flu. But villagers are hiding their fever because of fear that they will be quarantined. The stigma attached to the novel coronavirus also contributes to their reluctance to consult doctors," said the MLA.
"If people were to hide at home without treatment, even for flu, that would lead to another disaster. That is why I arranged for doctors to treat those with fever," said Rashid.
Ashish Mal, a resident of Sitalgram, said the MLA's initiative had also become a source of fascination for villagers as he was carrying the gun-like thermometer.
"We have never seen such a thing before," said Mal who was standing more than an arm's length away from the MLA.
"It is also the first time that I have seen a politician doing something directly connected with healthcare. We are used to seeing them distribute food or grains."