Covid-19 death toll up by 11
Number of total coronavirus patients in Bengal: 1,259; recovery rate is 17.32 %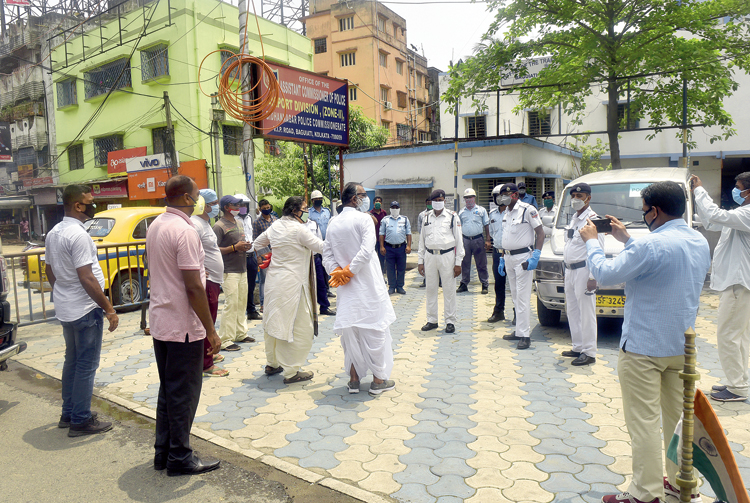 Bengal minister Purnendu Bose and MP Dola Sen talk to police officers about the lockdown at Baguiati in Calcutta on Monday.
Picture by Bishwarup Dutta
---
Calcutta
|
Published 04.05.20, 08:32 PM
|
---
The death toll from Covid-19 reached 61 in Bengal on Monday with 11 persons succumbing to the disease in the past 24 hours.
According to the state government, there are 1,259 total confirmed novel coronavirus cases and 61 of them were reported in the past 24 hours. The number of cured patients has reached 218 and the recovery rate is 17.32 per cent.
The detailed figures were given by top government officials at a press conference in Nabanna on Monday evening. This was the first press meet by the government on Covid-19 patients since Thursday.
The officials said on Monday that the number of tests in the state was 279 per million.
The number of deaths attributed directly to the pathogen rose from 33 on Thursday to 61. The toll was 50 on Sunday. There were deaths of 72 other Covid-19 patients from co-morbidities, according to the state government.
Of the 61 deaths, 35 were from Calcutta, 12 from Howrah and 10 from North 24-Parganas.
Chief secretary Rajiva Sinha, who addressed the media, alongside home secretary Alapan Bandyopadhyay and health secretary Vivek Kumar, said the government would now onwards provide information on not only active Covid-19 patients but also total cases to minimise "confusion in various quarters".
"Total confirmed cases, 1,259, as on May 4. Total active positive cases, 908," said Sinha. On Thursday, Bengal had 572 active Covid-19 patients. Of the 908, 463 are from Calcutta, 204 from Howrah and 124 from North 24-Parganas.
There are 4,860 people at the state-run quarantine facilities and another 5,755 people in home quarantine.
"Our recovery rate (total cured out of total confirmed cases) is 17.32 per cent. Confirmed positive cases per million — our analyses have shown — is 13.98. Deaths per million people is 1.47," the chief secretary said.
Sinha said Bengal was lagging behind than other states in terms of testing and the number of tests conducted per million. He attributed the less number of tests to several technical and logistical issues with the Indian Council of Medical Research under the central government. "But over the last few days, we were able to ramp up testing and we have been sharing those figures with you daily. Tests per million 10 days ago stood at 109, today, it is 279," he said.
"Our strategy for Covid-19 management include optimal testing, active contact tracing, isolation and quarantine, and best treatment of all novel coronavirus patients," said Sinha, adding that Bengal had conducted 2,201 tests in the past 24 hours and 25,116 tests in total.
The percentage of positive cases out of samples tested stood at 5.01.
Sinha said the state had distributed to its hospitals 5.8 lakh personal protective equipment kits, 3.5 lakh N95 masks, 22 lakh other masks, 1.27 lakh litres of hand sanitiser and 11.5 lakh gloves. Having already distributed 10,000 thermal guns, the state is now ready with 20,000 more for distribution.
Industry nod
The state , said Sinha, had received 10,096 applications from industries and enterprises for reopening and already approved 4,340 requests. Of the 5,362 rejected applications, most were for industries in or around containment zones. The government, he said, is likely to decide on the rest 394 applications by Tuesday.