Birbhum ration shop's chair ploy to encourage social distancing
Sources said the step was taken on Wednesday after panchayat members at Kundala complained about huge crowds in front of the ration shops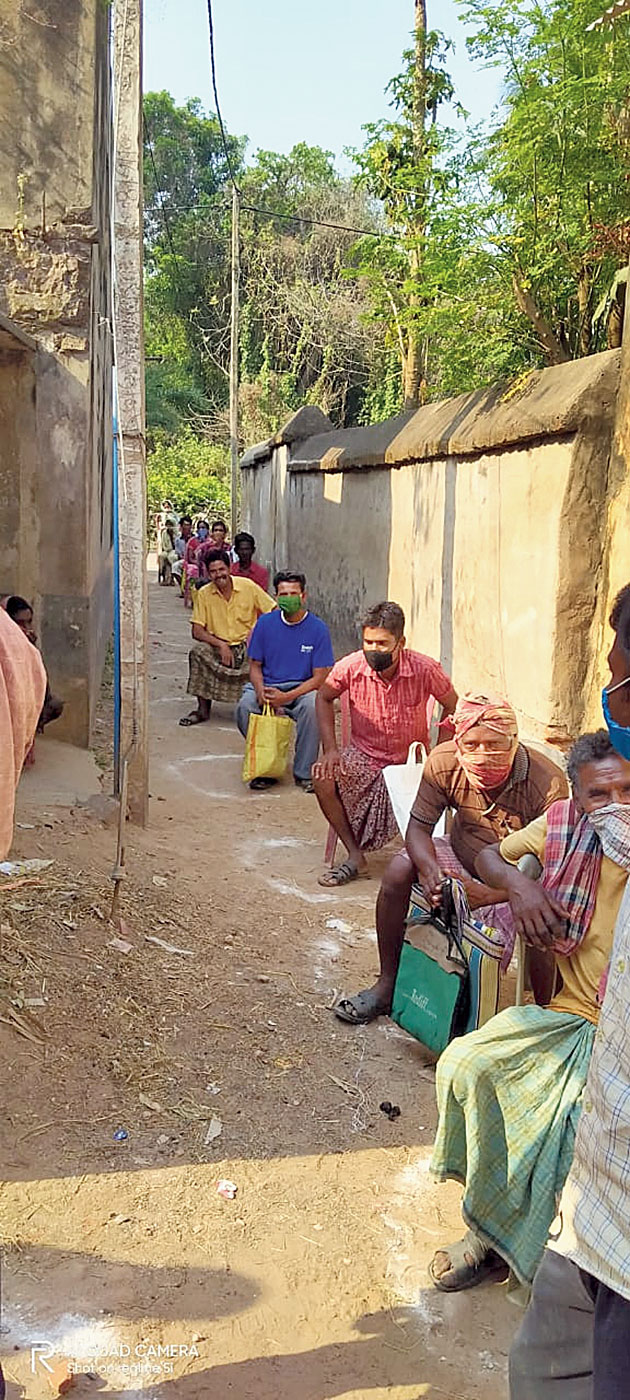 ---
|
Suri
|
Published 02.04.20, 09:43 PM
---
Three ration shops in Birbhum's Mayureswar have placed chairs leaving a gap of at least 1 metre between any two for people to sit in adherence to social-distancing norms.
Sources said the step was taken on Wednesday after panchayat members at Kundala complained about huge crowds in front of the ration shops to collect free food grains being distributed by the state government to help people tide through the lockdown.
"We spoke to police officers in Mayureswar. I personally called up a local decorator and told them to supply chairs at Rs 5 a piece on rent. This has helped resolve the problem of mass gatherings," said Sumanta Pal, the chief of the Trinamul-run Kundala gram panchayat.
Panchayat employees have placed some of the chairs near the shops and the rest under nearby trees or sheds.
"As soon as one person has collected ration, the one behind him moves, so does the rest. People are also happy that they are not having to stand in the queue for long," said a police officer.
"The ration dealers and the customers have welcomed the arrangement. We have been able to avoid mass gatherings through this. People are sitting a meter from each other," the officer said.
On Tuesday, the police had to resort lathicharge in a Purulia village following an agitation by a group of villagers who had accused the ration dealer of giving less food grains than the amount promised by the government.
Abhijit Sinha, the mentor of the Birbhum zilla parishad, said all gram panchayats and panchayat samitis had been asked to hire chairs from local decorators and place them in front of ration shops.