Barter system lets the poor get sanitisers
Five saplings or 5kg of used plastic for two masks and a litre of disinfectant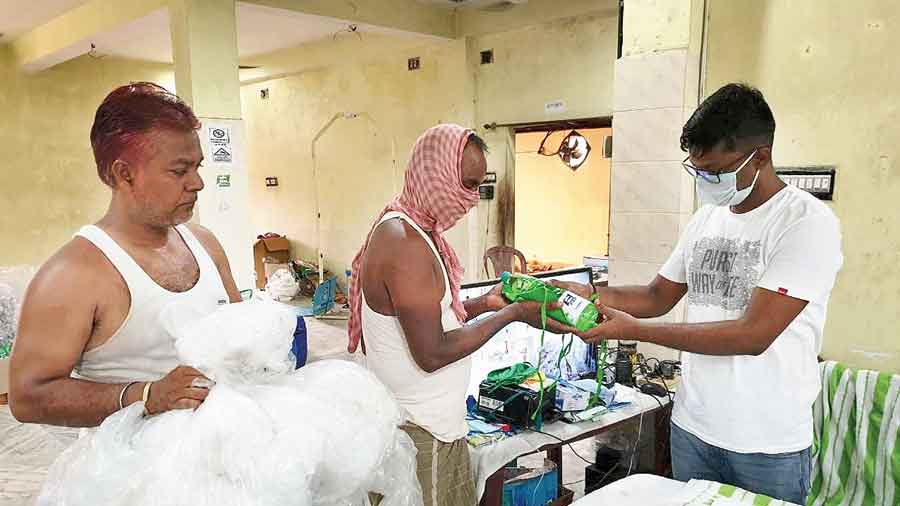 People at Palla Road collect sanitiser and masks.
Munshi Muklesur Rahaman
---
Burdwan
|
Published 06.08.20, 02:41 AM
|
---
Some youths in East Burdwan's Palla Road have started a sanitiser bank to ensure cash crunch did not come in the way of the poor keeping themselves safe during the pandemic.
The bank operates on barter system. To get a litre of sanitiser and two cloth masks once every month, a person needs to bring either 5kg of used plastic or five saplings.
The youths of the Palla Road Pallimangal Samiti, a social welfare group set up in 1936, decided on the sanitiser bank when they found poor people around them — daily wage earners and farmers, among others — going to earn their livelihoods without sanitisers as they had no money to buy them.
"Anyone who wants to take a litre of sanitiser, along with two cloth masks, can get them by exchanging 5kg of used plastic or five saplings of any plant. We found that a lot of people in our area can't afford to buy sanitisers. We could have distributed sanitisers for free but opted for the barter system so that it didn't hurt anyone's self-esteem," said Sandipan Sarkar, the general secretary of the samiti.
The samiti has also fixed a token price of Rs 49 for one litre of sanitiser for those who do not have plastic wastes or saplings to exchange.
The drive began on Monday and already 40 persons have registered themselves with the samiti for sanitisers.
"Our goal is to reach out to the needy and keep them safe amid the novel coronavirus outbreak," said another member of the samiti, adding they had been making aloe vera-based sanitisers.
Asked what they would do with plastic wastes and saplings, Sarkar said: "We make bricks with the plastic wastes and use these bricks to build the boundary wall of the building from where we operate. Sapling will be planted along the boundary walls and beside the road leading to our office."
Swapan Brahma, an electrician struggling to make ends meet since the lockdown started in March, came with 5kg of used plastic on Tuesday   in exchange of the sanitiser and masks.
"I can't afford to buy sanitiser from the market, one small bottle costs around Rs 50. So when I came to know about the initiative, I brought used plastics collected from my home and from my neighbours to get the sanitiser," said Brahma.
Farmer Parasar Mukherjee exchanged five saplings for a bottle of sanitiser and two masks. Welcoming the effort, Sarkar said: "This would ensure some hygiene for poor people in difficult times.