Ration violence in two districts of Bengal
At Boyra village in Lalgola, a ration dealer's store was gheraoed by nearly 100 protesters around 8am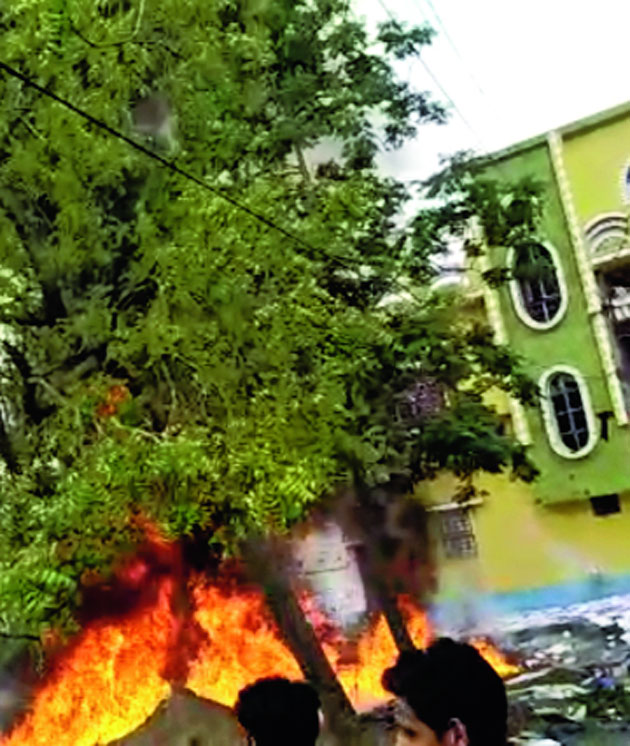 ---
Burdwan
|
Published 02.05.20, 11:23 PM
|
---
Distribution of rations continued to pose problems for the Bengal government on Saturday as people turned violent at two places in Murshidabad, while beneficiaries protested against a couple of rations dealers in East Burdwan for distributing less food grains than the amounts pledged.
At Boyra village in Lalgola, ration dealer Kayem Sheikh's store, located on the ground floor of his house, was gheraoed by nearly 100 protesters around 8am. They demanded an explanation from Sheikh on why he was giving them less than the stipulated amount of rations. The protesters alleged that they were attacked.
"We were met with a volley of bricks from the terrace of his home," said one protester.
At least seven persons were injured in the clash. Anirul Hussain, 32, and Rahul Sheikh, 18, have been admitted to Krishnapur Rural Hospital in Lalgola, whereas critically injured Yunus Ali, 45, has been transferred to Murshidabad Medical College and Hospital. Four others have been released after being administered first-aid.
Police have detained Kayem and three of his aides.
At Punasi village in Salar, dealer Halim Sheikh's store and home were stormed around 9am by a mob who alleged that he had been hoarding rations. Sources said Halim and his family had fled following a tip-off.
"The protesters stormed Halim's godown, emptied the stock onto the street outside, and burned everything," said a neighbour. "We do not expect dishonesty at a time of crisis like this,"
The police rushed to the spot around 10am but no arrests had been made.
Ration dealer Munira Khanum at Lalgola's Diarfatehpur was arrested by the police after they found rotten grain in her godown. The arrest followed complaints from residents.
At the Sri Krishna Rice Mill compound in Raghunathganj, villagers protested in front of the gates on Saturday after they spotted bags of rice marked for distribution through rations shops being shipped in trucks.
"Why are bags of rations supply being given to a private mill?" asked a protester. The protesters demanded that the mill administrators hold talks with them.
"Three persons have been detained in connection with the Boyra incident. We have also salvaged the ration from the godown and will launch an inquiry soon," said additional superintendent of police (Lalbagh), Tanmay Sarkar.
In East Burdwan's Ketugram, villagers allegedly heckled a ration dealer for providing less quantity of food grains, while agitations were reported by four rations dealers in Kalna sub-division.
Residents of Mehedibagan in Burdwan town protested against ration dealer Rekha Samanta, accusing her employees of providing less quantity of food grains. The distribution of rations was stopped with the residents demanding a probe against Samanta.
In Hooghly, the government has suspended two rations dealers and showcaused five in East Burdwan over allegations that they were giving less food grains.