Home still far away for 10 labourers
No end in sight for migrant ordeal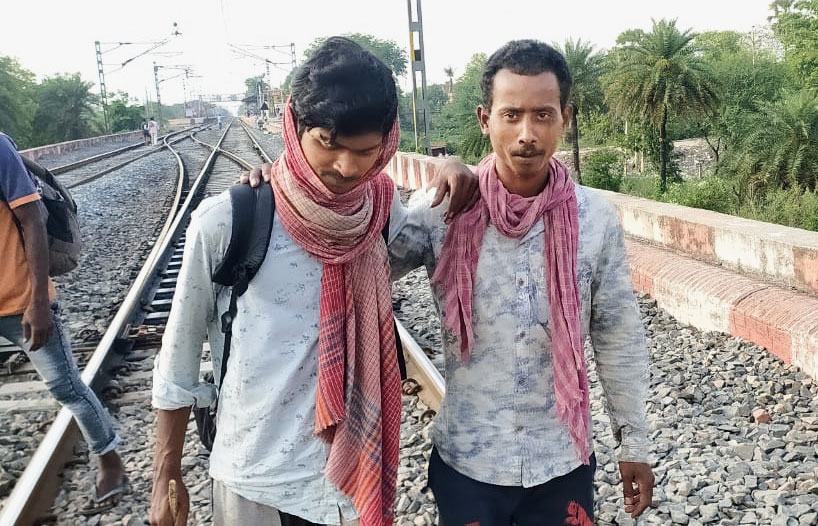 ---
---
Trains are taking back thousands of migrant labourers to their respective states, but 10 home-bound youths continue to walk to their houses at Kalna in East Burdwan as no government has come their way.
The Telegraph had reported on May 3 the ordeal of the 10 migrant labourers who had been walking home from Madhubani in Bihar since April 27 and how a cop had misguided them and they had landed further away from home at Raxual.
Since Saturday evening, they have covered 109km and reached Jamui station in Bihar on Tuesday evening. Jamui is 25km away from Jhajha station. According to Google Maps, Jhajha railway station is 259km from Burdwan. "We are too tired and don't know how we will reach home without proper food and rest," said Rajesh Debnath.
The 10 labourers had set off on April 27 from Phulparas in Bihar's Madhubani.
The weary labourers, speaking over the phone, said they were beginning to lose their momentum and one of them had suffered a sprained leg after tripping on the railway line. "We are beginning to get really tired. And now, we have to carry Dipak (Debnath) on our shoulders since Sunday morning," said Rajesh.
"We were lucky as an unknown villager gifted us a packet of sattoo (gram flour) on Monday. We had it in the morning," said another labourer who didn't know when they would be able to have their next meal.
"If we get food, we will be able to reach home," he added.
The team requested their family members to meet them at the Bengal border near West Burdwan's Barakar and take them home. Google Maps shows the distance from Jhajha to Barakar is around 206 km.
The family members in Kalna are trying to contact influential people, including local MLA and minister Swapan Debnath.
"What we have got so far is assurance," said Rajesh.
When The Telegraph called up Debnath on Tuesday evening, his aide hung up saying that the minister was busy. Later, several calls to Debnath went unanswered.