Concerts beat virus, go virtual
Darjeeling's first e-gig a big hit, more to come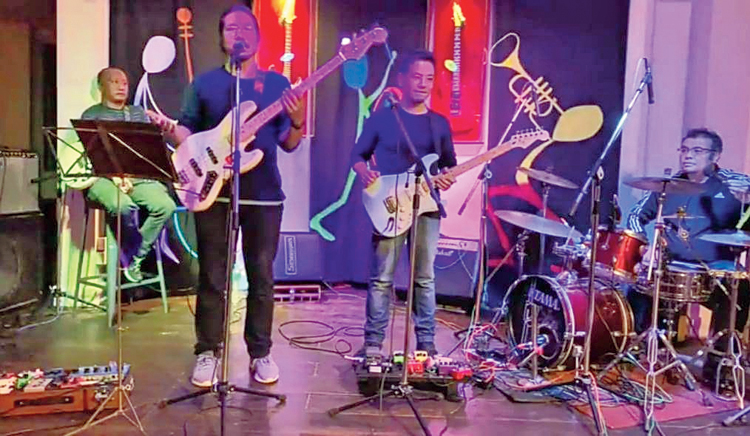 Members of the band perform during the virtual concert at Buzz in Darjeeling
Telegraph picture
---
Darjeeling
|
Published 09.06.20, 10:21 PM
|
---
The Covid-19 pandemic may have cancelled live gigs and concerts, but as they say, the show must go on.
Darjeeling, one of the major clusters of music bands in eastern India, is now coming to terms with the "new normal" with virtual concerts. A boy band from Darjeeling, PENNYTRAIT, is among the first to reboot to the new reality.
Hearteningly, PENNYTRAIT, which livestreamed their concert on Monday, earned around Rs 35,000, over four times higher than it would have had it played live in Darjeeling's famous Buzz, a "resto bar" at the iconic Glenary's.
Before the pandemic, the Buzz used to organise live sessions every weekend for almost a decade. A local band, say, PENNYTRAIT, earned Rs 8,000 per gig, an outstation one received Rs 15,000, said Ajoy Edwards, the owner of Glenary's.
These sessions came to a grinding halt after the Covid-induced lockdown started in March-end.
But now, Angels Production Studio Darjeeling, a production house, has stepped in to take the concerts online. The venue remains the same, Buzz.
On Monday, the one-and-a-half hours online concert of PENNYTRAIT started from 6.30pm, getting as many as 10,000 viewers on the Angels Production Studio Darjeeling's Facebook page, where it was livestreamed. The band played, among others, cover versions of beloved Eric Clapton and Bob Marley hits.
Pragya Lama, member of the Darjeeling band Mantra who coordinated the event with Angels Production Studio Darjeeling, said such virtual concerts had come to stay. "No one is talking much about musicians amid the pandemic but we have lost our bread and butter, too," he said. "From bands playing in international circuits to local ones, everyone is hit by the pandemic. No one knows when live shows will start again. That's why we thought of the new online platform0".
Pragya mentioned that they sought financial help from music lovers through the Facebook page and set up a Google Pay account. "We will soon use PayPal, too," Pragya said, adding that they expect at least Rs 100 from an individual. "For starters, we had donors from Australia, Kathmandu, Sikkim, Calcutta, Delhi and other places. We had lot of local support in Darjeeling too."
He added that Monday's show was a trial but its huge success encouraged all of them to livestream such a concert every weekend from 6pm to 8pm.
Glenary's owner Edwards said that neither the organisers nor Glenary's would take any portion of the amount raised.
"For the virtual series, we've decided that the entire funds will be given to the performing band," said Pragya.