CRPF succour for Jhargram
Food is the way for force to tribals' hearts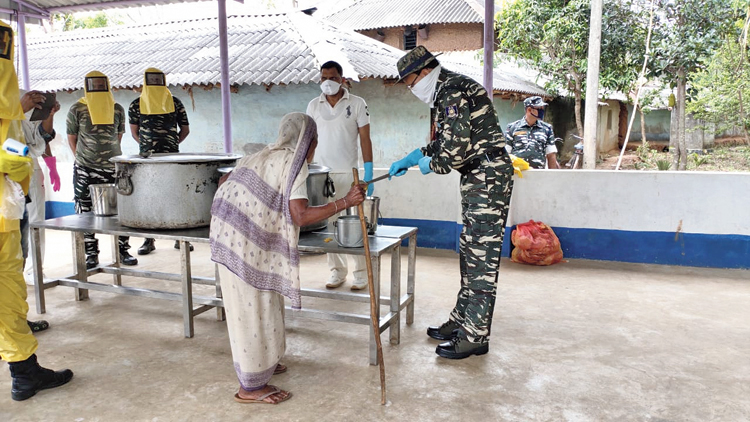 ---
---
The CRPF has launched a reach-out initiative through distribution of relief materials and cooked food among the poor and tribal people in erstwhile-Maoist infested areas in Jhargram in an attempt to prevent the rebels from regrouping in the Jungle Mahal amid the Covid-19 pandemic.
Officers said the tribal people in remote pockets in Jhargram had been facing difficulties since the onset of the lockdown as their main vocation of collecting and selling wooden logs almost stopped because of a halt in economic activities.
The jawans of the CRPF's 50 Battalion have zeroed in on hundreds of poor families in Jhargram's Lalgarh for distributing relief materials.
Those villages became a centre of Maoist activities since 2008 and the rebel leader Kishen had taken shelter in the Jungle Mahal. Between 2008 and 2011, the entire area had reported at least 50 murders and dozens of clashes between the Maoists and the men in uniform.
Senior officers said the relief initiative was to save the life of the poor as the Maoists always tried to take advantage of any crisis.
"We have started distributing dry rations, cooked food and materials for sanitisation among the villagers to send a message that we are with them in this crisis. Those people are really poor and have no resource to arrange for their essentials," said
Bajranglal Sharma, the commandant of the CRPF's 50 battalion.
"The zone is now safe but it is true that the rebels always try to take advantage during a crisis," Sharma added.
On Thursday, the CRPF jawans fed around 2,000 people at a government school wearing personal protective equipment to highlight the importance of hygiene to avoid Covid-19. On Saturday, 350 families were provided with sanitation kits comprising soaps, sanitiser, masks and hand wash.
The villagers said they were happy with the activities of the CRPF as they had no income and many people were running out of essentials following the lockdown.
"We are in trouble because of the lockdown and no other people come to help us. The CRPF jawans have come with the essentials what we need. They are feeding cooked food to those who are helpless," said Amar Hembram, a resident of Raotara village.
CRPF sources said though the area had been declared as a Maoist-free zone, some local people took part in recent Maoist attacks in Jharkhand.
The officers said though the Jharkhand border was sealed, there was always the possibility of the rebels sneaking in for regrouping with the help of the sympathisers in the Jungle Mahal.
"People of these areas are very poor even when everything is normal. Now, the crisis is too much and so, it is the prime time for the Maoist to organise the villages with minimum supply of essentials. We are not ready to give them the opportunity," said a CRPF officer.