Call of duty keeps Selina at the wheel
Selina keeps driving her ambulance to ferry patients from remotest corners of North Dinajpur to hospitals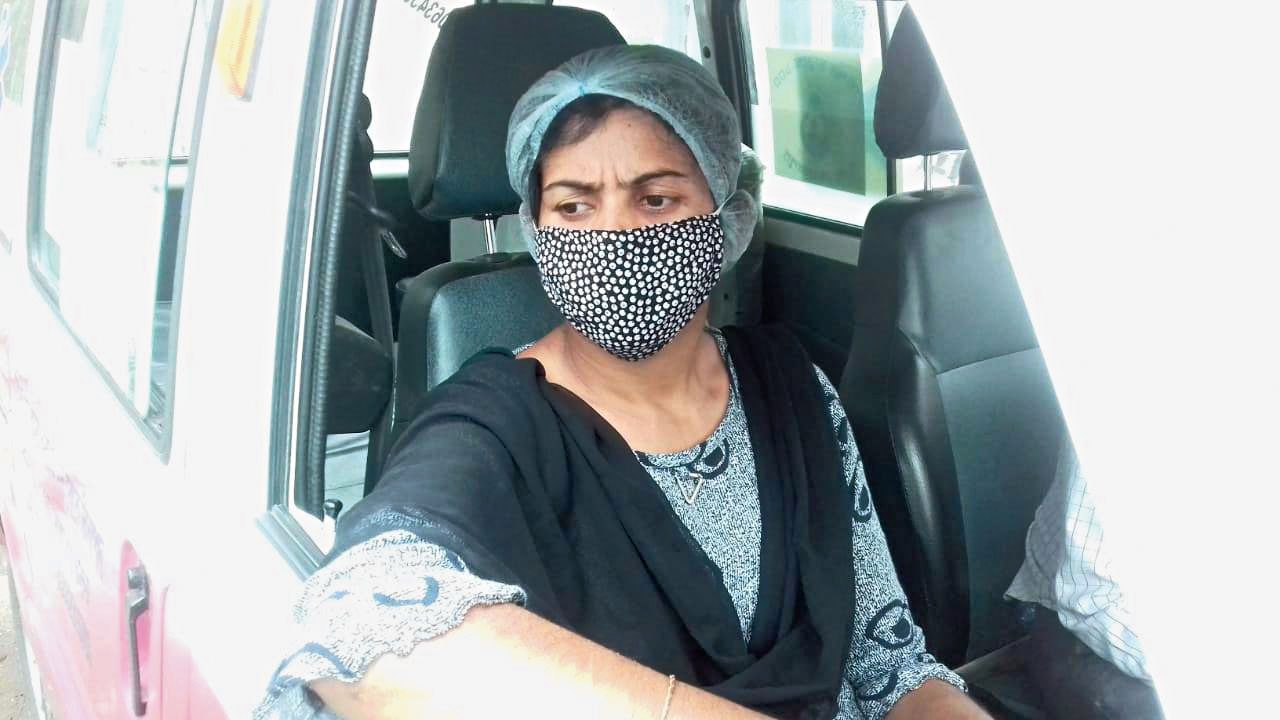 Selina Begum drives her ambulance in Raiganj.
Picture by Kousik Sen
---
Raiganj
|
Published 29.04.20, 09:19 PM
|
---
Lockdown may have sent the vehicles off the roads, but Selina Begum hasn't stopped driving.
The 30-year-old woman from Dakshin Hemtabad, a small village in Hemtabad block and around 20km from here, has made a mark for herself in this hour of crisis as she has not vanished indoors — like many of her male and female colleagues. Selina keeps driving her ambulance to ferry patients from remotest corners of North Dinajpur to hospitals.
"Ever since coronavirus cases have been reported in our state, most of the private ambulances have gone off the roads. This is because these drivers are apprehensive of getting infected with the coronavirus even though not a single positive case has been reported in the district so far," said an official of the district health department.
However, Selina has always been available for her service unlike the seven-eight private ambulances in Raiganj subdivision.
"It is a matter of pride for us that we have private ambulance drivers like Selina, who has been relentlessly providing the service during this hour of crisis. Other drivers who are staying indoors should learn from her as ambulance is an essential service," said Arvind Kumar Mina, the district magistrate of North Dinajpur.
Selina, who stays near the block health centre in Hemtabad, however, was matter of fact in her reply saying she had been doing her duty.
About two years ago, the district administration had selected 15 women from rural areas and taught them driving before handing over ambulances to them. "I am providing service round the clock and carry at least five patients. Most patients need to be carried to the Raiganj Government Medical College & Hospital from the health centre in Hemtabad. But these days, I am also getting calls from Raiganj and other areas and carrying patients to hospitals and dropping off patients at their homes," she said.
Chumki Pal, a Raiganj resident, said it was Selina who had helped her during a crisis.
Recently, her husband had a cardiac arrest and doctors at the Raiganj medical college referred him to the North Bengal Medical College and Hospital in Siliguri. The family members, however, decided to shift him to a private nursing home.
"We have been frantically searching for ambulances but could not find any. Suddenly, I noticed her. She had brought a patient from Hemtabad and was returning. The moment she heard about my problem, she offered to take my husband to the nursing home," said Pal.
Selina is the principal earner in the family.
"First of all, I cannot afford to sit at home as I need to run the family. Secondly, I am into essential service and it is wrong to stay indoors, particularly at this time. There is nothing to fear if we take proper precautions," said Selina.