State nod to Bangladesh trade
Move comes after a gap of about 70 days since all activities were paused during the lockdown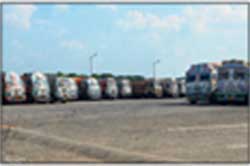 ---
---
The Bengal government on Saturday green-lighted the resumption of bilateral trade between India and Bangladesh via the Petrapole integrated checkpost (ICP) and put standard operating procedures in place.
"Bilateral trade has been allowed to resume through the Petrapole ICP from Sunday with the safety SoPs in place," said a government official.
The move comes after a gap of about 70 days since the bilateral trade was paused in the Covid-induced lockdown.
According to the SoPs, exporters must set up a pool of 100 drivers, who will take loaded vehicles to the Bangladesh side of the ICP where the trucks will be unloaded. "Drivers won't get down, Bangladeshi workers will unload the trucks. The trucks from India will be allowed to go only 500 metres beyond the zero point," said an official.
On the way back, empty trucks would be sanitised at the zero point. All drivers must wear the PPE.