Containment zones throw up a dilemma for civic poll nominees
For a number of candidates, these zones are a fresh poser as they can't reach out physically to the voters in these zones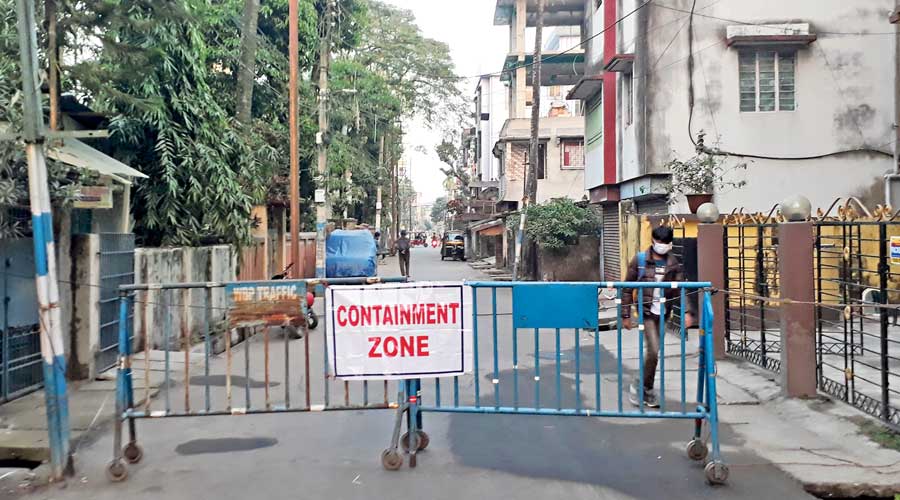 A micro-containment zone in Ashrampara under ward 14 of the Siliguri Municipal Corporation.
Passang Yolmo
---
Siliguri
|
Published 06.01.22, 02:02 AM
|
---
The mushrooming of micro-containment zones across the state following the surge in Covid-19 cases has come as a fresh poser for candidates of political parties contesting from wards in at least two municipal corporations, Siliguri and Bidhannagar.
In Bengal, four municipal corporations — Siliguri, Bidhannagar, Asansol and Chandernagore — are slated to go to polls on January 22.
With the state government and the state election commission coming up with a series of restrictions and directives to control the spread of the pandemic, physical campaigning through rallies has become tough.
With rising infections, the administration of several districts have marked areas with multiple Covid patients as micro-containment zones with curbs on entry and exit in these earmarked areas.
For a number of candidates, these zones are a fresh poser as they can't reach out physically to the voters in these zones.
Three such micro-containment zones have been created in as many wards of the Siliguri Municipal Corporation (SMC) area while 12 more such micro-containment have been marked in eight wards of Salt Lake under the Bidhannagar Municipal Corporation area.
"A micro-containment zone has been marked in my ward where there are 30-odd households and around 100 voters. It is obvious that I can't approach these voters during my campaign right now. We are waiting for withdrawal of restrictions. Meanwhile, I am trying to gather voters' contact numbers so that I can at least speak to them over phone," said Mousumi Hazra, the CPM candidate contesting in ward 19 of the SMC.
Santosh (Aditya) Modak, the BJP candidate of ward 25 is equally perplexed as a similar zone has been marked in his ward, which has around 70 voters. "I doubt if I will eventually be able to reach out to these voters. The marking has led to confusion among voters of adjacent areas. I believe I will have to explore alternatives like video calls," he said.
Similar is the concern for Srabani Dutta, the Trinamul candidate of ward 14, a portion of which has been announced as a micro-containment zone. There are around 100 voters who stay in households under the zone, said local Trinamul leaders.
Sources in the administration said more micro-containment zones may crop up.
"This is indeed a challenge for the candidates as they cannot meet voters physically. Personal contact is vital in civic polls as candidates often win with narrow margins," said a political observer. 
At Chandernagore, there is no micro-containment zone as of Wednesday, but  Trinamul candidates contesting from all the 33 wards of Chandernagore have readied a database of phone numbers of all voters.
In Asansol, sources in the administration said around 20 containment zones have been identified in the civic area and will be marked in due course.
"We do not have any information so far. We believe the administration will share the details with us so that we can plan our campaign accordingly," said a senior Left leader.
Additional reporting by Snehamoy Chakraborty and Abhijeet Chatterjee