Mamata Banerjee's Singur tweet ahead of Delhi trip
CM started her movement with hunger strike that led to change of guard in Bengal in 2011 after 34 years of Left rule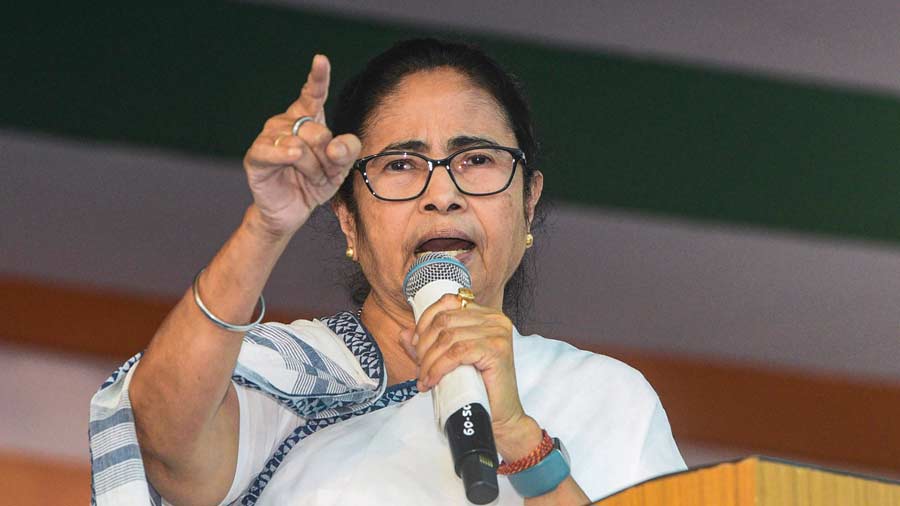 Mamata Banerjee
File picture
---
Calcutta
|
Published 05.12.22, 03:50 AM
|
---
Chief minister Mamata Banerjee on Sunday said she would never let the rights of people be threatened by the powerful as she recalled her hunger strike that marked the start of the fight for farmers of Singur on December 4, 2006.
"16 Years ago today, I began my hunger strike for the farmers of Singur and rest of the nation. It was my moral duty to fight for those who were left helpless due to the greed of the powerful," she tweeted on Sunday. "That fight in me lives on. I'll never let the rights of my people be threatened."
Mamata started her Singur movement with the hunger strike that led to the change of guard in Bengal in 2011 after 34 years of Left rule.
The tweet came on the eve of her Delhi trip. Mamata had earlier said she would go to Delhi on December 5 and meet Prime Minister Narendra Modi but not in the capacity of a chief minister. It also came in the backdrop of a conflict between the ruling Trinamul and the BJP in Bengal over the Centre freezing the 100 days' job scheme funds. 
"Through her tweet she wanted to convey... that the proposed meeting with Modi should be seen in the light of her long struggle to fight for people's rights. It's her way of taking on critics who accuse her of going soft on Modi," said a Trinamul leader.