Central nod to disaster response funds for Bengal
The assistance to Bengal is part of the Rs 1,887.23 crore assistance approved by a high-level committee (HIL) chaired by Union home minister Amit Shah to five states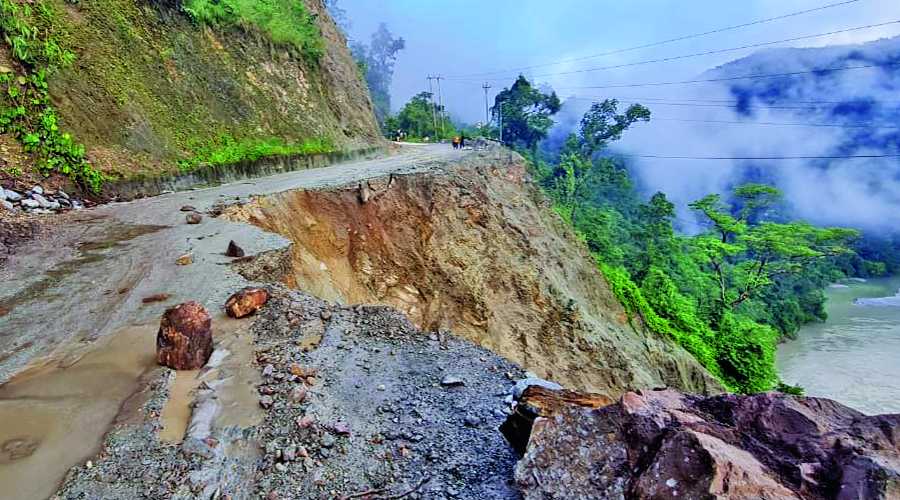 A stretch of NH10 that connects Kalimpong and Sikkim after a landslide during the monsoon last year.
File photo.
---
Darjeeling
|
Published 01.04.22, 02:11 AM
|
---
The Centre has approved Rs 475 crore to Bengal as additional central assistance to take up rehabilitation and reconstruction work in the wake of floods and landslides in the state during 2021.
The assistance to Bengal is part of the Rs 1,887.23 crore assistance approved by a high-level committee (HIL) chaired by Union home minister Amit Shah to five states — Bengal, Bihar, Himachal Pradesh, Rajasthan and Sikkim. It has been made under the National Disaster Response Fund (NDRF) to five states affected by floods/landslides/hailstorms during 2021, said a source.
"I am happy to share the news that our government has allocated Rs 475.04 crore towards the state disaster response funds for Bengal," said Raju Bista, the Darjeeling Lok Sabha MP. "I am most hopeful that the Bengal government will use this fund to provide financial support to the victims from Darjeeling and Kalimpong districts, including rebuilding homes, roads and compensation for agricultural damages. I also hope that TMC won't indulge in favouritism, nepotism, corruption and demand cut-money from these funds."
Apart from Bengal, Bihar has been allotted Rs 1,038.96 crore, Himachal Pradesh Rs 21.37 crore, Rajasthan Rs 292.51 crore and Sikkim Rs 59.35 crore.
"This additional assistance is over and above the funds released by the Centre to the States in the State Disaster Response Fund (SDRF), already placed at the disposal of the States. During the financial year 2021-22, the Central Government has released Rs. 17,747.20 crore to 28 States in their SDRF and Rs. 6,197.98 crore to nine States from the NDRF," a Public Information Bureau (PIB) statement revealed without specifying the names of the states.
Bista also released a letter that he had written to Prime Minister Narendra Modi on October 21, 2022, highlighting the havoc caused by the "untimely and insistent rain since the last three days" in the two districts of Darjeeling and Kalimpong and the neighbouring state of Sikkim.
Bista had listed 56 sites, which included roads and houses damaged in his constituency during that period.