Cemetery in encroachers' grip
Read more below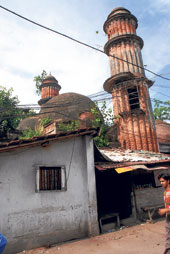 ---
Published 10.08.09, 12:00 AM
|
---
An illegal structure in the burial ground compound. (Amit Datta)
The state government is yet to remove encroachers from the Kalighat burial ground where Tipu Sultan's descendants were laid to rest despite declaring it a heritage site three years ago.
Around 300 families have been living at the 24-bigha cemetery at 51/1 Satish Mukherjee Road, behind the Kalighat booster pumping station, over the past few decades.
"We recently inspected the site and found encroachers had managed to get voter identity cards issued in their names in that address. The election commission has been asked to strike the names off the list," said an official in the state minority affairs department.
The official added it was "next to impossible" for the government to remove the encroachers before the Assembly polls scheduled for 2011.
During a recent visit to the cemetery, Metro found several tombs dismantled.
Mukhiadebi Paswan, who has been living in the compound for the past 25 years, said: "My voter identity card has been issued against this address. How can the government evict us?"
Shahid Alam, a direct descendent of the Mysore sultan and the secretary of the Mysore Family Fateha Fund Committee, said the CPM and Opposition parties both had been resisting eviction. "No party will risk backing eviction for fear of losing votes…. How come the settlers got ration cards and voter identity cards bearing the address of the cemetery that has been declared a heritage site," said Alam.
Minority affairs minister Abdus Sattar admitted the cemetery had been taken over by encroachers. "The heritage site has become a den of criminals. We will evict them soon," he said.
"Local criminals have built houses on the burial ground and even rented them out. We have arrested several criminals from the cemetery," said an officer of Tollygunge police station.
The cemetery came up in 1805, after the British shifted Tipu's family to Calcutta from Vellore. Tipu had died at Seringapatnam in 1799. All 12 sons of the sultan and other members of his family were buried in the city cemetery, said an official of the Wakf Board.