Youth catches hunters with 25 dead squirrels
The incident took place at Jalalshi Bowbazar village in Panchla, around 7km from Dhulagarh and 30km from the heart of Calcutta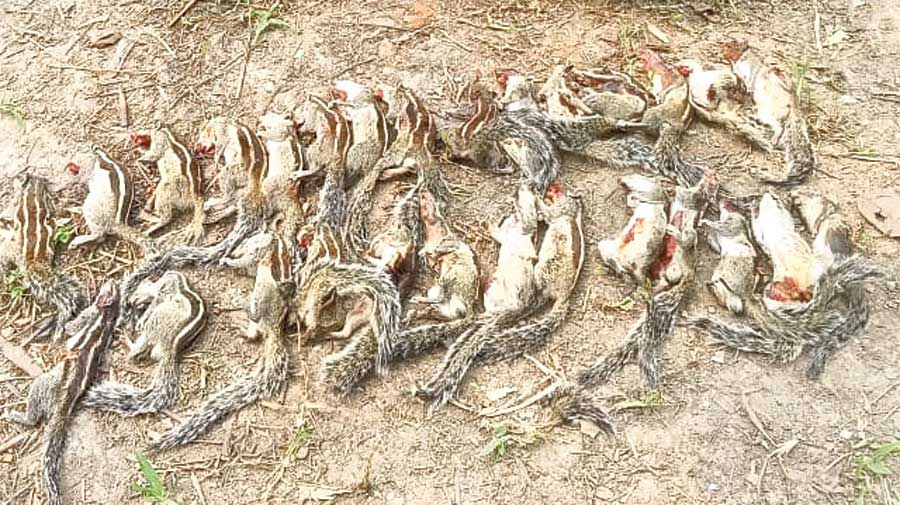 The dead squirrels
Sourced by Correspondent
---
Calcutta
|
Published 15.03.21, 01:30 AM
|
---
A 25-year-old man stood up to a group of alleged hunters armed with bows, arrows and improvised bamboo spears at a village in Howrah's Panchla on Saturday.
More than 25 dead squirrels were found on the group, most of whose members fled the spot after being challenged by Subhankar Koley, 25.
Koley managed to hold on to two of the alleged hunters who were later arrested by the forest department.
The incident took place at Jalalshi Bowbazar village in Panchla, around 7km from Dhulagarh and 30km from the heart of Calcutta. Shortly before noon, Koley spotted the group of seven coming out of a wetland near the village. "Arrows and what looked like spears in the hands of the members caught my attention. I stopped the group. One of the members said they had come to catch civet cats," said Koley.
Told that catching and hunting civet cats was illegal, the group members fled the spot. "I caught the shirt of one of the members who was carrying a bag… Over 25 dead squirrels were found in the bag later," said Koley.
He called his brother and a couple of friends who "detained" the man with the bag. Koley then raced on his cycle to catch hold of another man.
"He seemed to have lost his way and was standing outside the village. I brought him back to his accomplice," said Koley.
A team of foresters arrived soon and the two men were arrested.
"The arrested persons have been identified as Rajesh Dolui, 26, and Bikash Dolui, 23. The two are residents of a village in West Midnapore. They confessed to being part of a hunting group that travels across south Bengal to kill animals and birds, mainly for food," said a forest official in Howrah.
Squirrels are protected under Schedule 4 of the Wildlife (Protection) Act 1972. If convicted, the two face six months of imprisonment, said the forest official.
Squirrel hair is also used in making paint brushes, said a forest official.
"In this case, we have just provided support. The main credit goes to the young man and other villagers who caught the group," said Raju Sarkar, the divisional forest officer of Howrah.
Koley used to work with an online fashion retailer before the pandemic. But he has since lost the job. He is part of Howrah Zilla Joutho Poribesh Moncho, a forum of several nature and wildlife NGOs in Howrah.
"In the past, he has helped in the rescue of civet cats and other animals," said Subhradip Ghosh, a convener of the forum.
"We have encountered over 300 such hunting groups across Howrah this season," said Ghosh.